Bushwick
22/9/2017, 23:45, Odeon Opera 1
25/9/2017, 21:30, Odeon Opera 2

New York is in flames following Texas' decision to secede from the Union and their subsequent invasion of the metropolis. A 20-year old girl and a veteran commando fight to survive by any means necessary. A barrage of riveting long shots and fierce real-time action scenes make for the bloodiest post-apocalyptic cinematic hell of the year.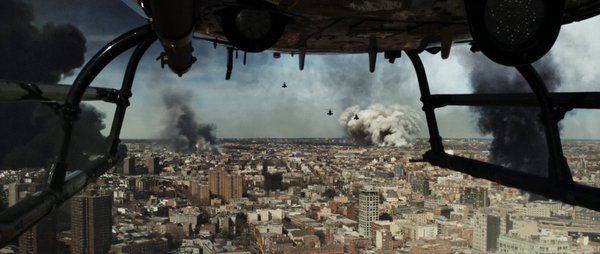 New York has turned into a war zone since Texas decided to secede from the USA invading unexpectedly the American metropolis. For 20-year old Lucy, walking the five blocks to her grandmother's apartment in Bushwick seems now a crazy hell, even with an experienced veteran on her side.
A barrage of long takes and the constant real-time action create the explosive mix that Cary Murnion and Jonathan Milott presented at the Sundance and Cannes film festivals, challenging the audience's limits with this post- apocalyptic action film's universe. A gripping film full of suspense, "Bushwick" is the most aggressive cinematic rollercoaster of short memory, where violence and death await at every turn.
Directors: Cary Murnion, Jonathan Milott
Screenwriters: Nick Damici, Graham Reznick
DoP: Lyle Vincent
Music: Aesop Rock
Editor: Joe Hobeck
Principal Cast: Dave Bautista, Brittany Snow, Angelic Zambrana, Jeremie Harris, Myra Lucretia Taylor, Alex Breaux and Arturo Castro
USA | 2017 | Color | DCP | 93' | English