Mayhem
29/9/2017, 00:00, Ideal
The executives of a top law firm transform into sadistic beasts thirsty for blood and sperm because of a virus which releases their innermost violent urges. A B-movie splatter with elements of a zombie pandemic, satirising capitalism in a film where white collar employees swap their ties for knives. Glenn from "The Walking Dead" has the starring role.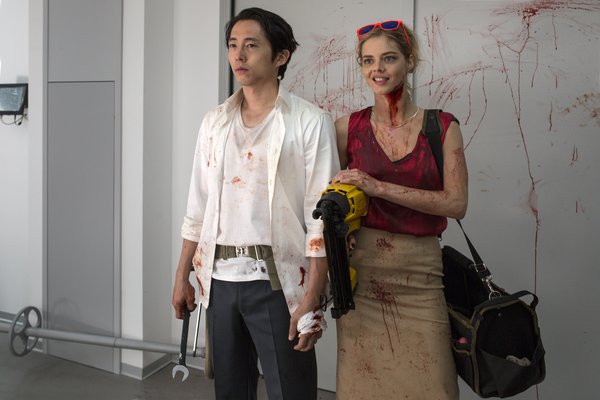 The legal team of a top law firm has helped a client accused of homicide get away scot-free based on the fact that he was unable to control his impulse since he suffered from virus ID7. This virus is found at the firm's headquarters, turning upstanding executives into snappy sadistic beasts. Chaos spreads through the building and moves towards the top floor were the board of directors is.
Steven Yeun of "Walking Dead" is absolutely suitable for the part of a wronged clerk that confronts idiot superiors at a massacre that "sends human dignity home sick". A splatter anti-capitalist satire with elements of zombie pandemic, filled with corporate scumbags that loosen their ties and are ready to attack in an allegoric late-night paroxysm that shook up SXSW.
Director: Joe Lynch
Screenwriter: Matias Caruso
DoP: Steve Gainer
Music: Steve Moore
Editor: Josh Ethier
Principal Cast: Steven Yeun, Samara Weaving, Dallas Mark Roberts, Caroline Chikezie, Mark Stewart Frost, Kerry Fox, Lucy Chappell, Steven Brand
USA | 2017 | Color | DCP | 86' | English