The Nile Hilton Incident
23/9/2017, 23:00, Danaos 1
Just before the dawn of the Arab Spring, a corrupt Egyptian police inspector is tasked with the investigation of the murder of a famous singer at the luxurious Nile Hilton hotel. The investigation comes to a stop when all evidence points to the President's friend. The police inspector is determined that justice be served at the same time that a revolution breaks out in his country. Tarik Saleh's riveting crime thriller, a film noir set in the dark back alleys of Cairo, won the Grand Jury Prize at the Sundance Film Festival.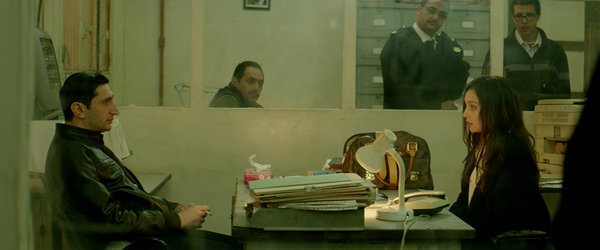 The heart of film noir is pounding in the seedy streets of Cairo, in this fascinating crime thriller by Tarik Saleh which was awarded the World Cinema Grand Jury Prize at Sundance Festival. A few weeks before the Arab Spring, Noredin, a corrupt Egyptian police officer, is assigned to solve the murder of famous singer Lalena in the luxurious hotel Nile Hilton.
The first clues seem to implicate a rich businessman who enjoys an unusual immunity as a friend of the President and member of the Parliament, so the investigation stops. As the revolution against Hosni Mubarak begins and the conflicts between citizens and police officers are raging, Noredin decides for the first time in his life to fight for the restoration of justice, while his country is faced with the end of an era.
Director: Tarik Saleh
Screenwriter: Tarik Saleh
DoP: Pierre Aim
Music: Krister Linder
Editor: Theis Schmidt
Principal Cast: Fares Fares, Ger Duany, Slimane Dazi, Mohamed Yousry, Mari Malek, Ahmed Selim
Sweden, Denmark, Germany, France | 2017 | Color | DCP | 106' | Arabic, Dinka, English, French