The Other Side of Hope / Toivon Tuolla Puolen (Closing Film)
30/9/2017, 21:00, Ideal
A Syrian immigrant escapes from the refugee accommodation centre where he is being held. A Finnish merchant leaves his old life behind to open a restaurant. Two men, who have both left their homes for different reasons, meet and it changes their lives forever. Aki Kaurismäki sees "The Other Side of Hope" as he euphorically broaches a hot political matter and succeeds in reminding us of such self-evident values as solidarity, companionship and love between people.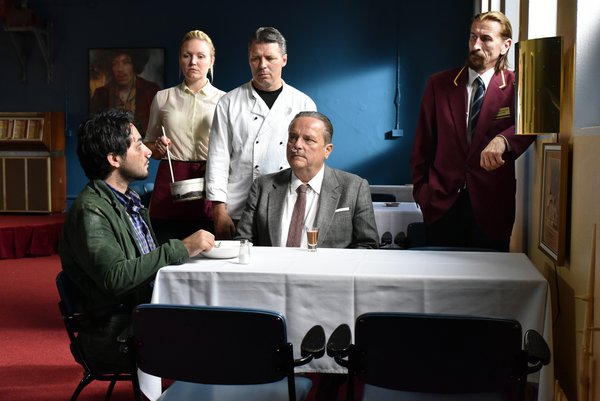 Khalled, a Syrian refugee, arrives illegally in Finland. He escapes the camp where he is held and lives as an outlaw. Vickstrom, a Finland merchandiser, leaves his wife, his home, his store. He earns quite an amount playing poker and buys a restaurant. He employs Khalled so the two men who left their homes, each for different reasons, change their lives together. It' s not easy to speak about the obvious let alone to do so successfully.
Aki Kaurismaki gives us "The Other Side of Hope" dealing with the hottest political issue of our times in what seems as disarming clarity. Like a teenager who wants to make the world a better place he focuses once more on the aspects of life we take for granted: solidarity, companionship and love.
Director: Aki Kaurismaki
Screenwriter: Aki Kaurismaki
DoP: Timo Salminen
Editor: Samu Heikkila
Principal Cast: Sherwan Haji, Sakari Kuosmanen, Janne Hyytiainen, Ilkka Koivula, Nuppu Koivu, Simon Hussein Al-Bazoon
Finland, Germany | 2017 | Color | DCP | 98' | Finnish, English, Arabic