My Happy Family
21/9/2017, 19:45, Danaos 1 (P)
23/9/2017, 20:30, Danaos 2
27/9/2017, 17:15, Danaos 2

Following her 52nd birthday, a woman decides to leave her husband, children and in-laws behind in an attempt to start her life afresh. In the process of doing so, however, she discovers that it is hard to break the ties of the family bond. Logic and sentiment, old and new work together in this disarmingly honest and bittersweet drama full of humanity and much needed laughter.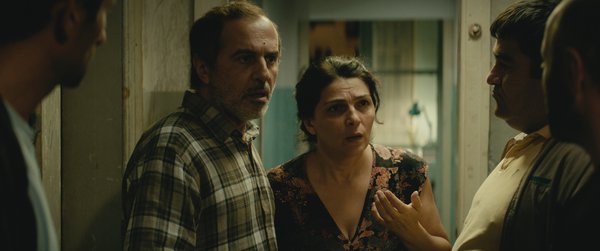 Three generations of a Georgian family live under the same roof: the couple, the kids and the in-laws, a bustling home where the slightest hope for peace is lost between voices, singing and noise. A day after her 52nd birthday, the mother decides to leave everybody. She rents an apartment on the other side of town and tries to reboot her life. But family seems to be the one solid bond no-one can shake off.
This is the bittersweet joke that the two directors make into a wonderful film, turning a reality quite like our own into an unpretentious lesson of naturalistic cinema filled with perceptive insight, measured drama and beneficial humor injections.
Directors: Nana Ekvtimishvili, Simon Gross
Screenwriter: Nana Ekvtimishvili
DoP: Tudor Vladimir Panduru
Editor: Stefan Stabenow
Principal Cast: Ia Shugliashvili, Merab Ninidze, Berta Khapava, Tsisia Qumsashvili, Giorgi Tabidze, Giorgi Khurtsilava
Germany, Georgia, France | 2017 | Color | DCP | 119' | Georgian