23 Athens International Film Festival: Award ceremony for newcomer Directors and Actors of Greek Films
Once again, the Athens International Film Festival supports Greek cinema by honouring newcomer directors and actors! In an evening dedicated to Greek cinema, on Monday the 25th September the award ceremony took place for newcomer Directors and Actors.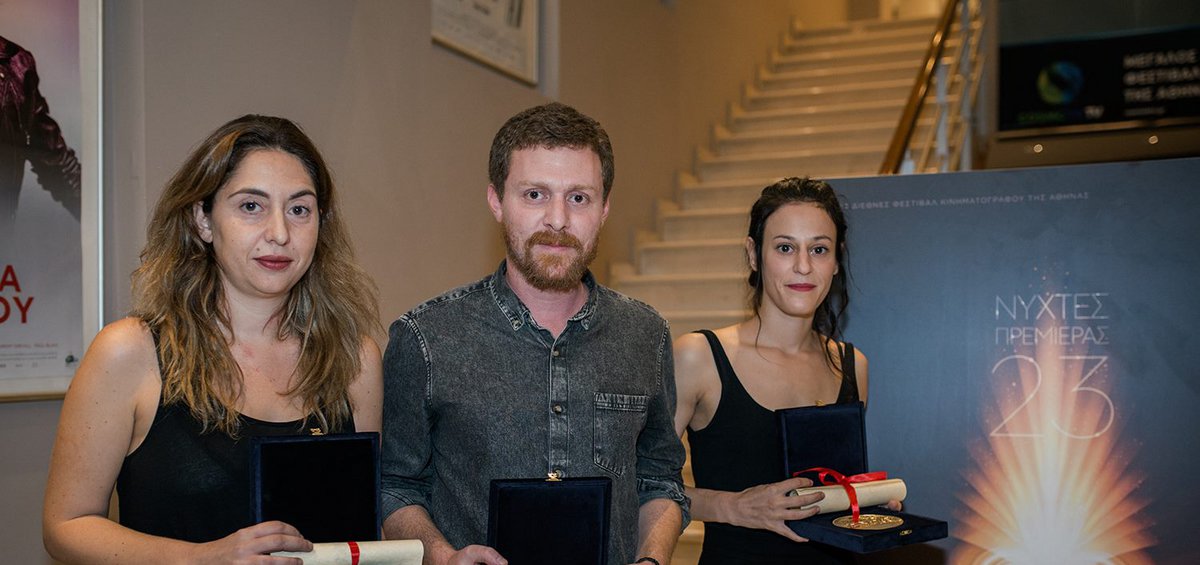 The winners of yesterday's ceremony were Sofia Exarchou for the cinematic flame of "PARK", Thanassis Petropoulos and Dimitra Vlagopoulou for the originality they brought to their characters in "Kissing?" by Yannis Korres and "PARK", respectively. The jury was composed of Film Producer and Musician Maria Hatzakou (President), Director of Photography Christina Moumouri, Director and Actor Ektoras Lygizos, Songwriter and Composer Kostis Maraveyas and Film Critic Marina Tsiklitira.
Marina Tsiklitira, while speaking on behalf of the jury, mentioned that this year's newcomers "made an effort to be original, to find a new formula, a visual language and this was a surprise because these directors moved us in ways we hadn't considered or noticed before with their own fresh approach".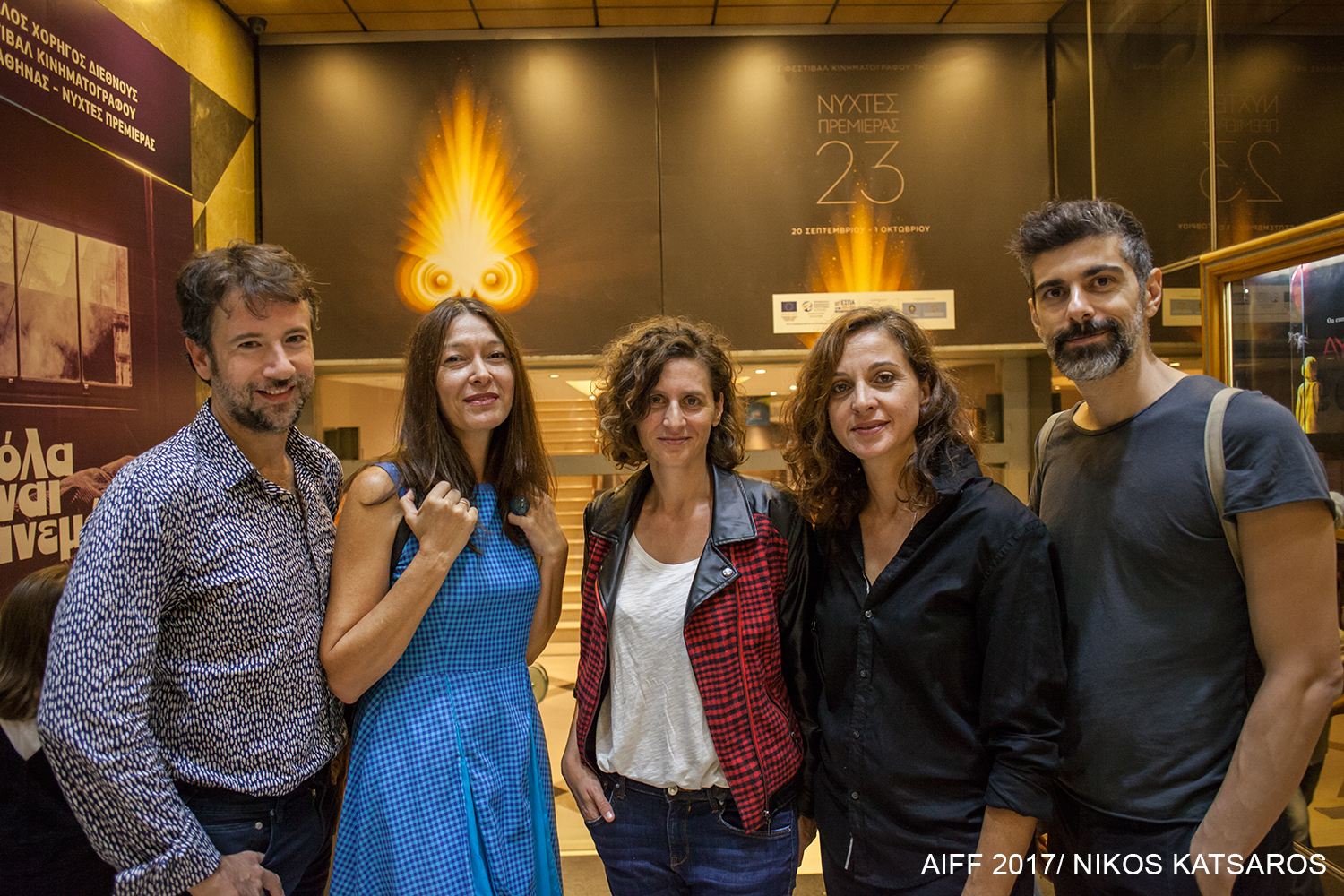 Best Newcomer Director:

The award for Best Newcomer Director was given to Sofia Exarchou for her film "PARK". Director Ektoras Lygizos presented the award and mentioned prior to giving the award that the jury had "selected the best film because they had been moved by its momentum, its cinematic expression and the creative way in which it utilised space and actors".
Sofia Exarchou thanked the jury and the Athens International Film Festival and stated that "as we were all newcomers in this film, we share this award. The first film is a scary experience and I do mean scary! I would like to thank my colleagues for sharing the experience with me".
"PARK", filmed almost in its entirety at the Olympic Village and at various Olympic Games sports facilities, is about Athens ten years after the 2004 Olympic Games. A film about the rise and fall of a city, which could be any city in the world, and about its people. At the same time, it is also a story about the raw energy of adolescence and the fierce progression into adulthood.
«PARK» trailer
Best Newcomer Male Actor Award:
The Best Newcomer Actor award was given to Thanassis Petropoulos for the wonderful "Kissing?" by Yannis Korres. Prior to presenting the award, Marina Tsiklitira mentioned that the character Mr Petropoulos portrays is a contemporary cynical hero who at first seems like a cold person keeping the people around him at a distance but "the actor succeeds in opening cracks and offering us a better glimpse into who the hero really is".
Thanassis Petropoulos accepted the award and said amusingly that "receiving a best newcomer award at the age of 35 is a youth elixir in itself. I would like to thank the director Yannis Korres because when you're surrounded by a great team you have fun and I'd also like to thank my fellow actors Iro Bezou and Omiros Poulakis because the film was a team sport and you can't score a goal without your teammates ".
"Kissing?" chronicles the relationship between Danny (Thanassis Petropoulos) and Stella (Iro Bezou), it's about being in their late twenties. Left to deal with all that goes on around them, they share their innermost thoughts with disarming honesty and shocking humour.
"Kissing?" trailer
Best Newcomer Female Actor Award:
The award for Best Newcomer Female Actor was given to Dimitra Vlagopoulou for "PARK" by Sofia Exarchou. Kostis Maraveyas, who presented the award, said that "we are very happy because this particular performance impressed us, as did the film. The actor was gushing in parts and sensitive in others, as needed".
Dimitra Vlagopoulou thanked the jury. "It is a great honour to be awarded for my first film. I would like to thank Sofia Exarchou and everyone else I worked with in order to make PARK ".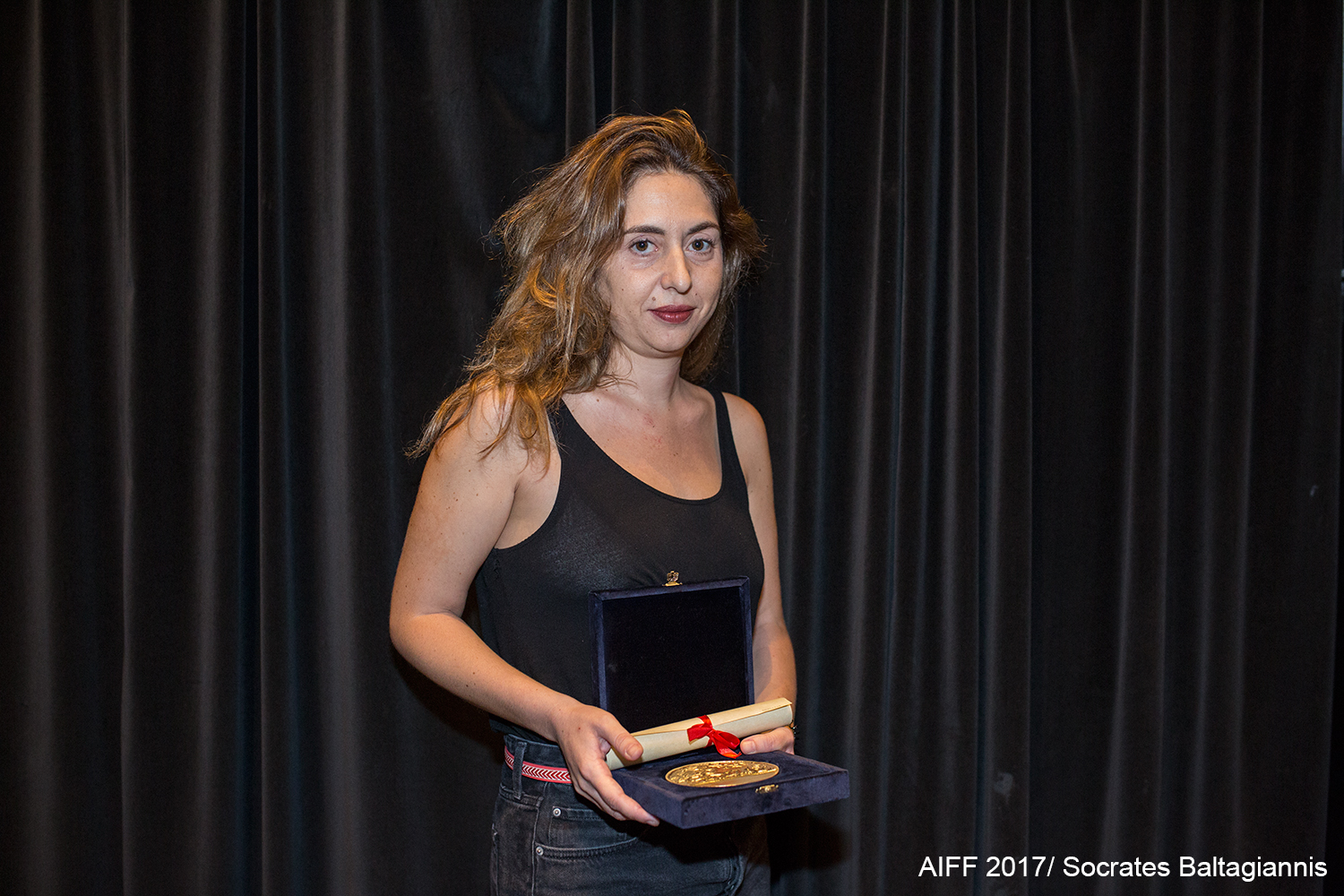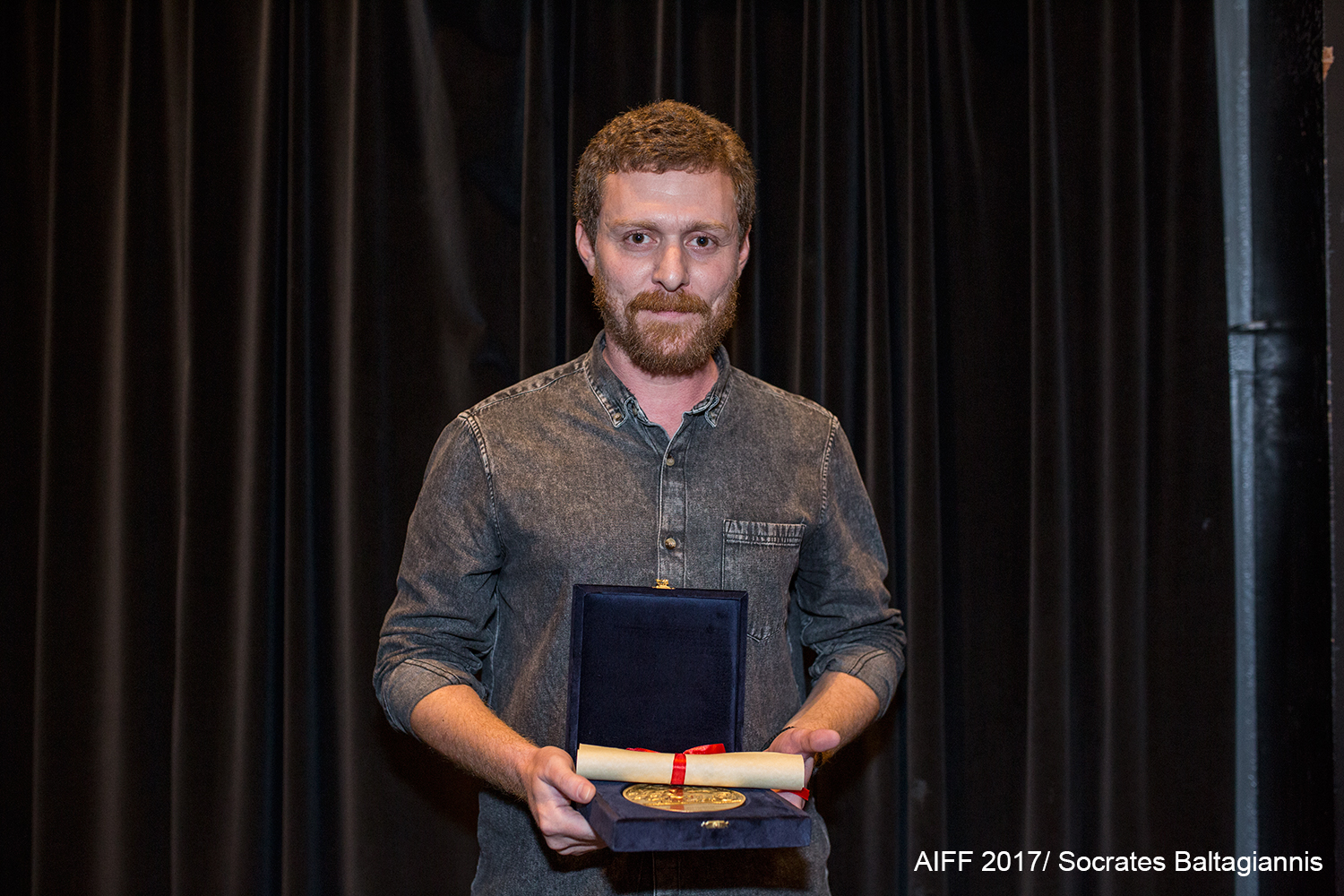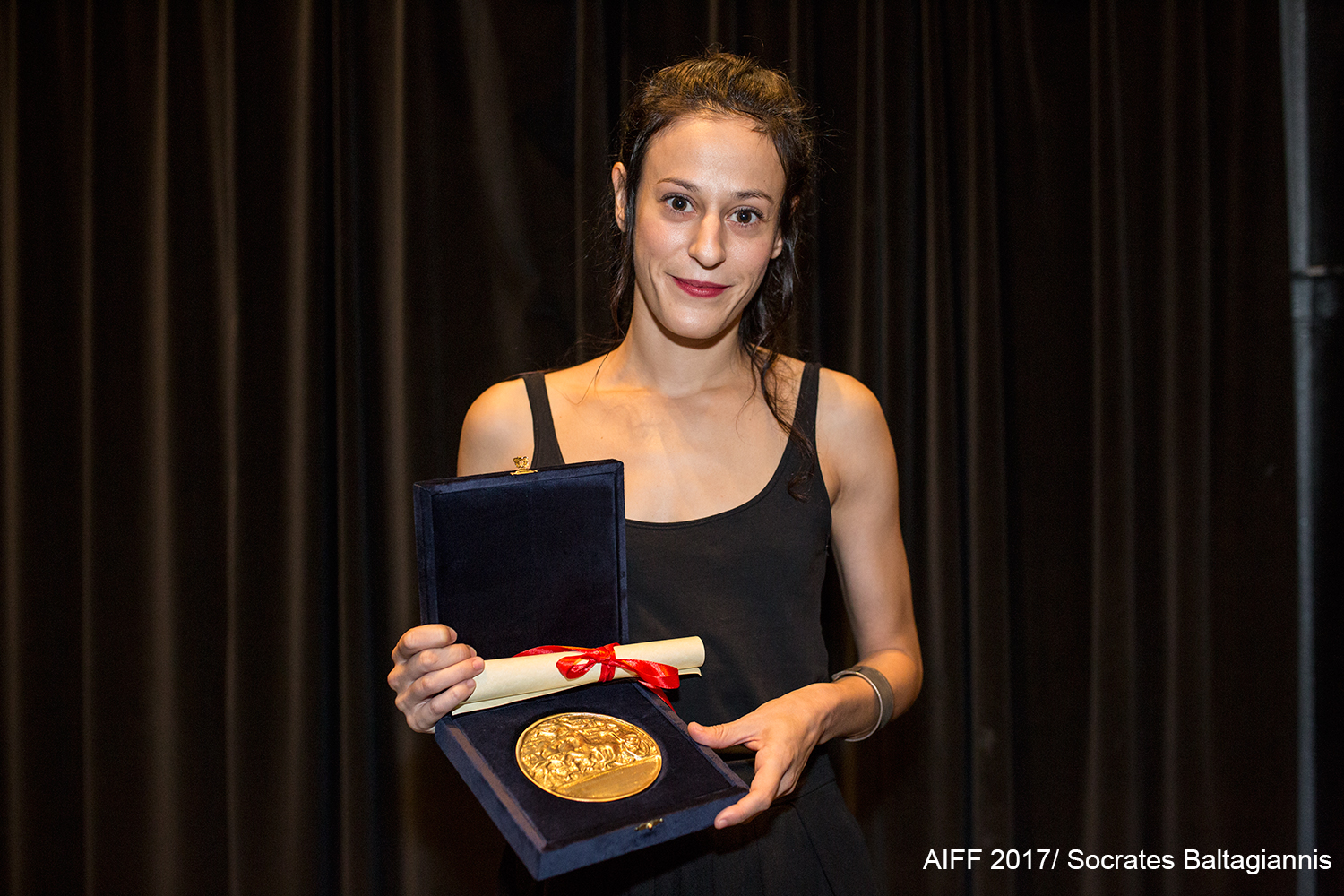 Following the award ceremony there was a screening of the film "Konstantinos Τzoumas: An actor
by nature" by Dimitris Koutsiampasakos, in attendance of the beloved actor and radio producer Konstantinos Tzoumas, as well as the director of the film. The film is a cinematic portrait of Kontantinos Tzoumas, a man who has been described as sarcastic by nature, an idiosyncratic actor and an instinctive author. The actor himself accepting of the description added that he is " a tasteful thief, with a tendency to be disloyal and unwilling to complete things as well as intolerant of other's opinions. I find true seriousness tedious, superficial seriousness ludicrous and professional comedians depressing. I am also a victim of the following malady: I tend to get upset about loss without having done anything to hold on to what I have lost...".
The Festival's Artistic Director, Loukas Katsikas, introduced the screening and mentioned that 10 years ago he spent 6 enjoyable hours, in a quiet street in Kolonaki, interviewing Konstantinos Tzoumas for CINEMA magazine. Konstantinos Tzoumas also added, in his characteristic humorous way, that he "wondered whether I have been asked here tonight by accident as Dimitris is the one who made the film. Why did they want me to be the guest of honour? Am I getting too old? Are they trying to tell me something? Should I be retiring soon? I will be watching the film with all of you for the first time this evening and the director has informed me that not everything made the final cut. This worries me..." .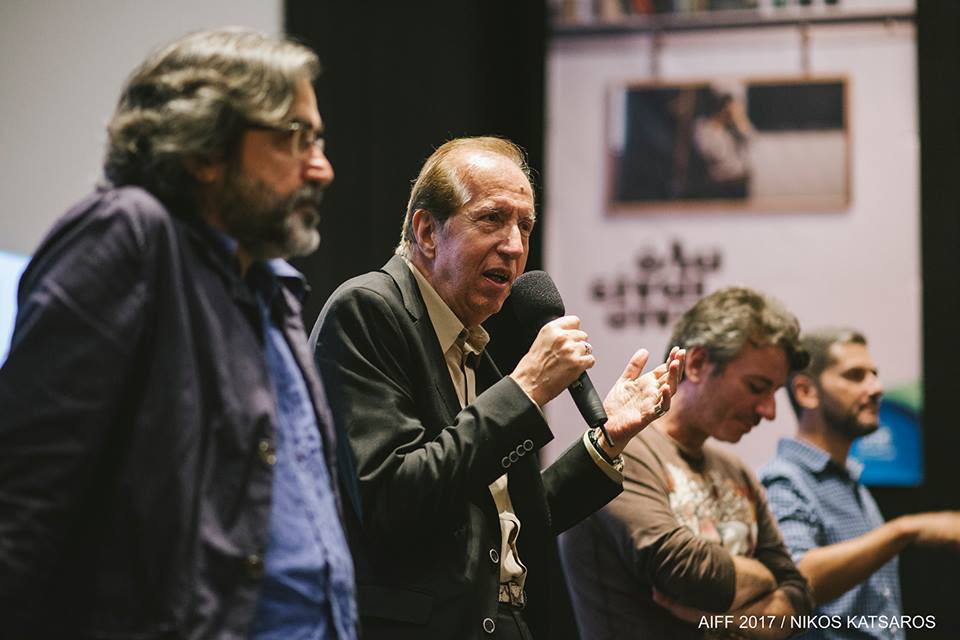 The night didn't end there! The celebration of Greek cinema continued at Greek Cinema's established party which took place in collaboration with the Hellenic Film Academy at the impressive space of Metallourgeio (Pireos 127). The space, with its distinct aesthetics transported everyone back to the industrial Athens of the 1900s while DJ Katerina Karali's music inspiring everyone to party and dance. We all welcomed the new cinematic season with teasers and trailers of upcoming Greek films while the audience enjoyed drinks courtesy of the Festival's Events Sponsor, Jameson.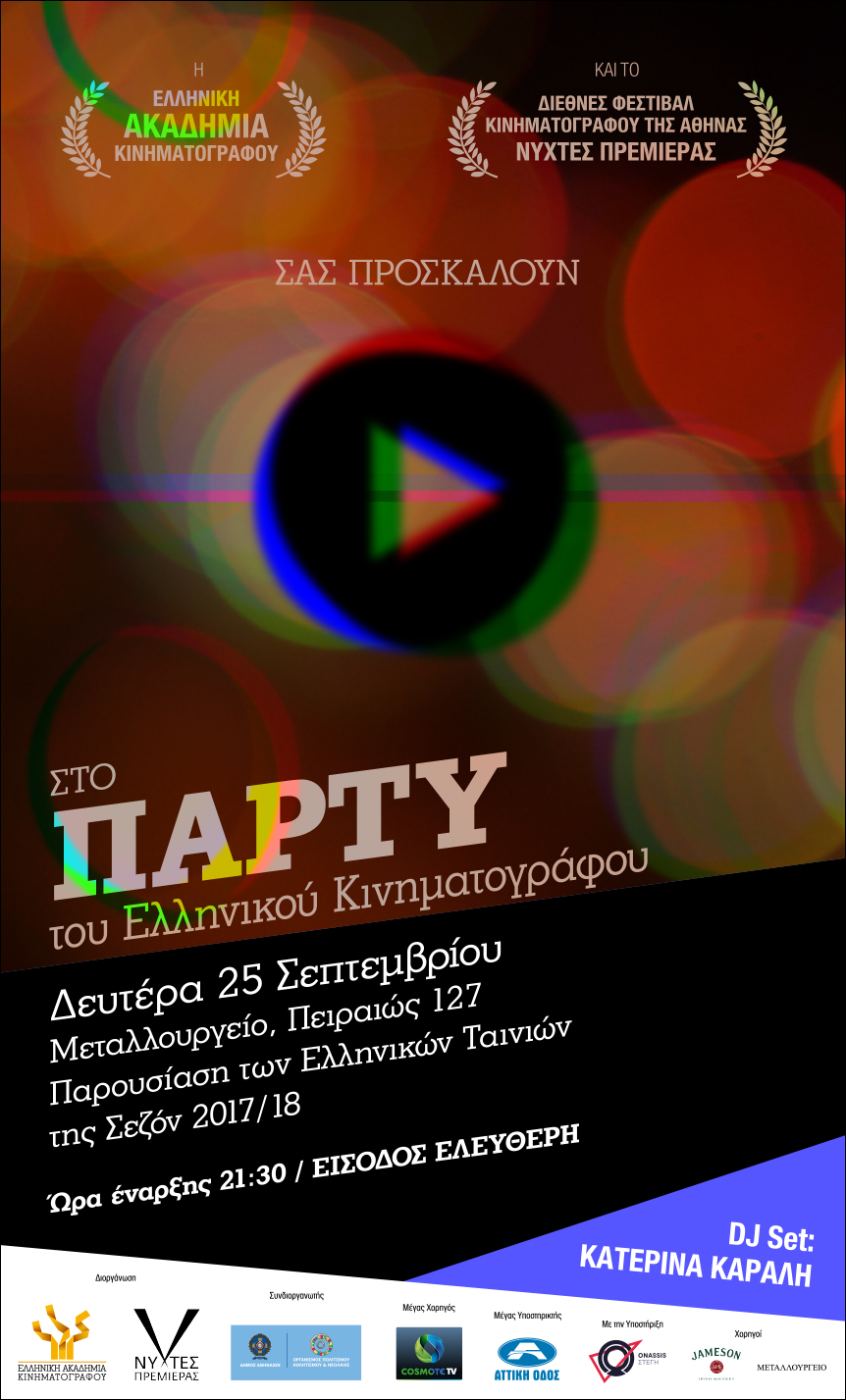 Publication date: 2017-09-26 17:28:03