23rd Athens International Film Festival: Highlights of Sunday 24th September
"The Miracle Worker" with acoustic description, the first ever to happen in Greece to a foreign language movie, Cate Blanchett's "Manifesto", the winner of the Silver Lion award at the Venice Film Festival "Foxtrot", Elvis in Promised Land, Daniel Day Lewis' first Oscar, the John Coltraine documentary, "Black Narcissus", a vision of unparalleled beauty, and some of the masterpieces of John Huston and Claire Denis at this day's Opening Nights!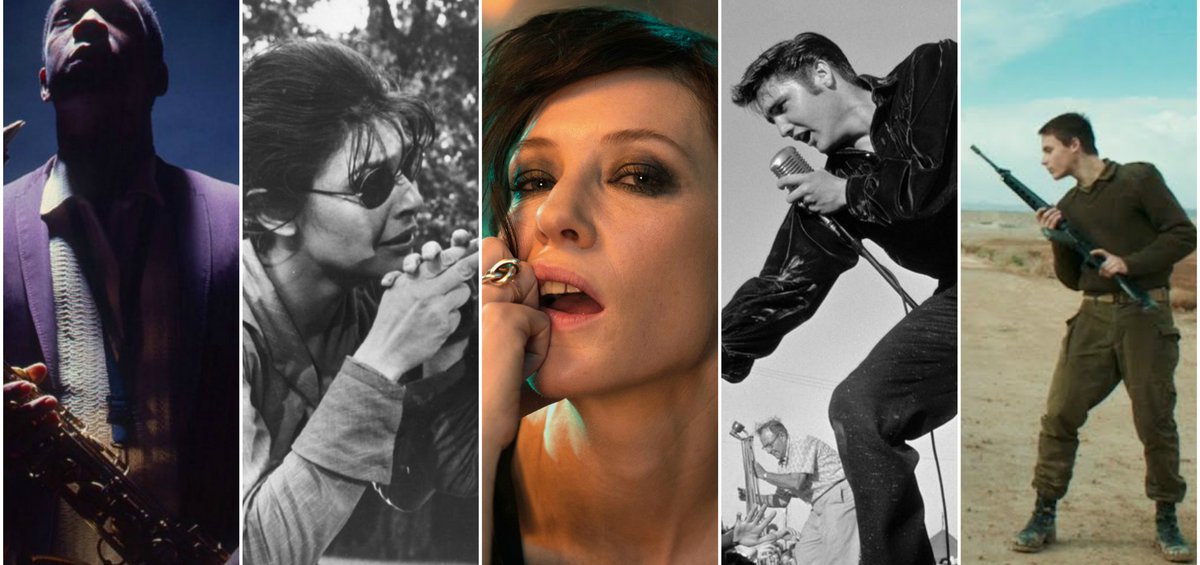 Nenette and Boni / Nenette et Boni
24/9/2017, 17:15, Odeon Opera 1
Fifteen year old Nenette runs away from home when she is confronted with her own unwanted pregnancy and seeks refuge at her estranged brother's house. Denis portrays the details of their dysfunctional relationship accompanied by, what is now considered the Tindertsicks' most popular soundtrack, a Truffaut-like spontaneity and the novel quality indicative of the Nouvelle Vague movement. The film received the Golden Leopard and three acting awards at the Locarno International Film Festival.
The Man Who Would Be King
24/9/2017, 17:15, Danaos 1
Michael Caine and Sean Connery's characters are two ex British military officers who have become thieves and who are about to embark on the greatest adventure of their lives when they decide to travel to uncharted territories of Asia in order to take advantage of the local tribes. Snowstorms, clashes, treasures and cold-blooded ruthlessness are elements in this larger than life, old-style saga. Huston's film was nominated for four Academy Awards and will be shown in 35 mm presentation.
My Left Foot
24/9/2017, 17:30, Οnassis Cultural Centre
An Academy Award success, starring the one and only Daniel Day Lewis in the role of the Irish author and painter Christy Brown, who was born with cerebral palsy and who wrote his life's story with his left foot. Digitally restored version. Free Entrance
The Miracle Worker
24/9/2017, 19:30, Οnassis Cultural Centre
The true story of author, political activist and lecturer (the first deaf and blind person to receive a degree in Fine Arts) Helen Keller who at 19 months old found herself deaf and blind and created a method of communicating with her environment through the tenacious efforts of her instructor Annie Sullivan. Arthur Penn ("Bonnie and Clyde") transforms Helen Keller's life story into a sensational celebration of the will to live. Anne Bancroft and Patty Duke won the Academy Awards for Actress in a Leading Role and Actress in a Supporting role respectively. Free entry
*An open discussion will follow with Menelaos Tsaousis, Director of the Centre for Education and Rehabilitation for the Blind and Maria Zeza, Head of the Kallithea School for Deaf & Blind (CERB)
Foxtrot
24/9/2017, 19:45, Ideal (P)
Michael and Daphna are devastated when they learn of the death of their soldier son. What they don't know, however, is that they are about to experience a barrage of overturning events whose surrealism can only compare with their son's military experiences. Having won the Golden Lion award at the Venice Film Festival for his first film "Lebanon", Samuel Maoz offers up a brilliant study of the unexpected games life can play on people.
Promised Land
24/9/2017, 19:45, Odeon Opera 1 (P)
Everyone knows Elvis, but how many know about the impressive Rolls Royce he bought in '63? The award-winning filmmaker Eugene Jarecki, takes the Rock'n'Roll King's legendary car on a transcendental musical road trip, crossing US states and decades in a gratifying tale about the past and present of America through the rise and fall of the pre-eminent idol.
Chasing Trane: The John Coltrane Documentary
24/9/2017, 20:00, Danaos 1 (P)
There's music legends and then there's John Coltrane: a revolutionary saxophonist and jazz composer but also a simple man with weaknesses and inner demons. More than a prized biography, Scheinfeld's documentary acts as a portrait of an artist who through his music and life choices tried to build an invisible stairway to God.
Manifesto
24/9/2017, 22:15, Danaos 1
Cate Blachett's devastating one woman show through her portrayal of 13 decisively different characters becomes the perfect canvas for German artist and director, Julian Rosefeldt, to imprint his overturning exposition. The boundaries and essence of art, the creator's responsibility towards society as well as the notions which help form present-day culture are the leading elements in this wild ideological collage.
Double Date
24/9/2017, 22:30, Odeon Opera 1
Jim would really love to lose his virginity before he turns thirty. But the only thing he'll be hoping for on the double date his buddy has arranged with Kitty and Lulu, is not to die. Doses of black humour bound to cause an uproar, occultism and sharp knives in one of the most entertaining anti-romantic films ever. "Superbad" meets its slasher sibling accompanied by the music of Goat.
Black Narcissus
24/9/2017, 22:30, Ideal
An order of English nuns at an imposing monastery in the Himalayas struggle with both the mystifying charm of the untouched landscape as well as their urges which are awakened by the arrival of an agnostic man. A vision of unparalleled beauty, "Black Narcissus" in Technicolor dreamily embarks on an exploration of uncharted human desires; and the tracks it leaves behind are some of the most rapturous colour visuals ever to be seen in film.
Publication date: 2017-09-24 13:41:34