Athens International Film Festival: The Poster
The beloved and biggest film festival in Athens returns for its 22nd edition.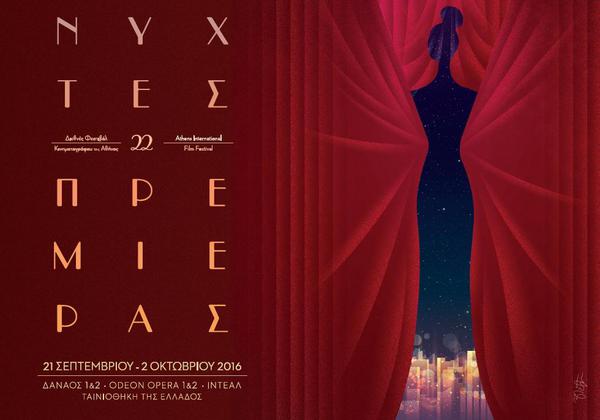 The beloved and biggest film festival in Athens returns for its 22nd edition and its new Artistic Director, Loukas Katsikas, will be welcoming us all to our usual, yet rejuvenated fall date. From September 21st to October 2nd 2016, the centre of Athens will be transformed to host a 10-day cinematic celebration of the most talked-about films of the year, unique tributes, much-anticipated music documentaries, great documentaries as well as side events such as concerts, parties, special screenings and many more surprises.
This year's line-up will be announced at the Festival's Press Conference, on Wednesday September 14th 2016, at 12.00 p.m., at IANOS.
Until then, we get to sneak a peek behind the curtains of this 22nd edition, by revealing the Festival's poster.
Especially made for this year's edition, the poster was designed by graphic designer and illustrator Vassilis Mexis. Born in 1991 in Maroussi, he won his first awards from the age of 7 in various drawing competitions. Having graduated from his studies in Graphic Design (BA - Bachelor of Arts) from AKTO with First Class Honors, he has been working in advertising since 2012 and has been an Art Director for the media group Bold Ogilvy & Mather since the summer of 2014. His work alongside his team has earned them Hermes and Young Lions distinctions. His work has been published in magazines and websites. Six portrait painting of his hang inside the NIRVANA cinema and he has designed covers for widely circulated magazines.
The poster of the 22nd Athens International Film Festival, according to Vassilis Mexis: "For the 22nd year in a row, the Athens International Film Festival will return as the most important cinematic event of the city, with the city itself dressing up to welcome it with open arms. Wishing to depict precisely this idea, this year's poster presents cinema and the city at night-time communicating, interacting and forming between them a classy female figure. The silhouette stands in the middle of the symmetrical design, which is a modernized tribute to the Art Deco aesthetic, an artistic movement that dominated around the time that color and sound became part of cinema, as it was leaving its silent years behind. Similarly, the Festival is leaving summer behind and breathing new life into the autumn nights!"
Have a great Festival!
*Stay tuned for the line-up of the 22nd Athens International Film Festival, which will take place at the cinemas Danaos 1&2, Odeon Opera 1&2, Ideal, and the Greek Film Archive.
http://www.aiff.gr/
Supported by: CINEMA MAGAZINE - WWW.CINEMAG.GR
Follow us on Facebook / Twitter / Instagram
Great sponsor: ΟΤΕ TV
Under the auspices of: MINISTRY OF CULTURE & SPORTS
Supported by: City of Athens Cultural, Sport & Youth Organization (OPANDA) Greek Film Centre Institut français de Grèce Embassy of France Goethe Institut
For more info, please contact our Press Office: 210-6061163 | press@aiff.gr www.cinemagazine.gr & www.aiff.gr