Spring awakening: Wild flowers of the Czech New Wave
For a brief but deciding period, beginning from the early '60s till the August of 1968, one of the most amazing film movements ever flourished in Czechoslovakia. Benefiting from a short period of relaxation of the political climate and the promise of a gradual liberalization, a group of directors who had studied at the distinguished Film and TV School of the Academy of Performing Arts in Prague (FAMU) tuned in beneficially to the same artistic frequency and began unleashing on screen some of the most innovative, narratively wild and formalistically bold films ever made.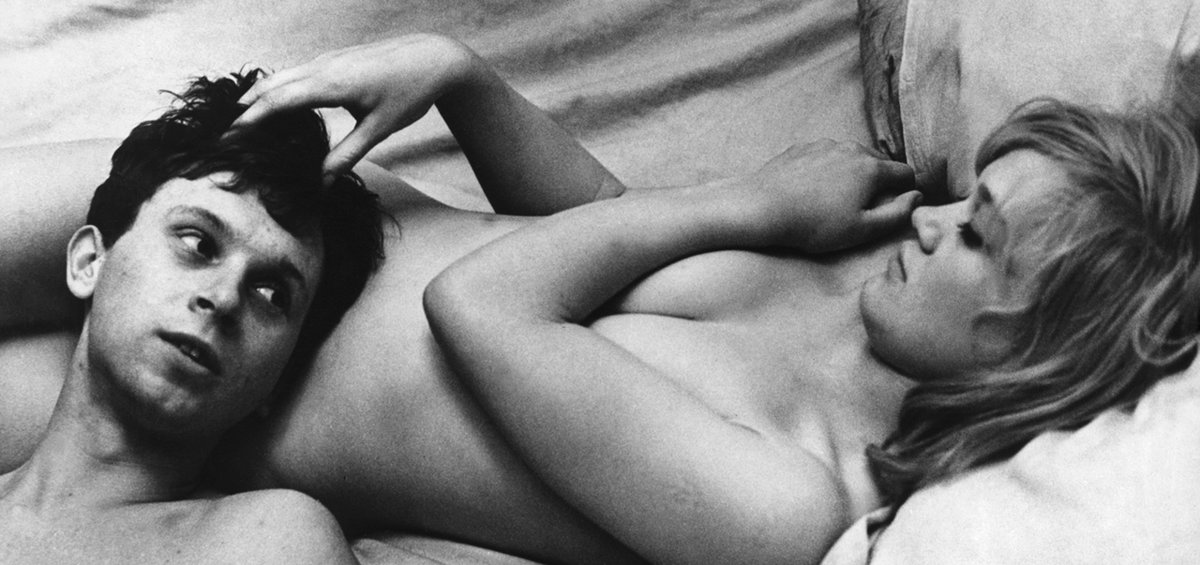 Drawing inspiration from literature, surrealism, visual arts, the recent and primal History, but giving their multidimensional narrations a timeless and universal energy, these directors set as their fundamental goal to
completely free their imagination. As a s result? Films that original examples of modernism that influenced countless directors (Yorgos Lanthimos is the most recent, who noted 'Cremator' by Juraj Herz as inspiration for the 'Favourite').
Parallel with the French Nouvelle Vague, the English Free Cinema and the Brazilian Cinema Novo, the Czech New Wave, not only had immediate international impact, but has an impressive series of participations and awards from respectable film festivals abroad, as well as two Academy Awards for Best Foreign Language Film. And while the famous Prague Spring, initiated by Alexander Dubček, leader of the country at the time, promised democratization and full freedom of the arts, the USSR tanks invasion (August 1968) lead the newfound film movement to vanish.
In many cases filming stopped abruptly, approved scripts were now being rejected, films were banned forever and many of the creators were forced either to leave the country (Milos Forman, Ivan Passer) either to stay behind and watch their careers being destroyed. Maybe the violent invasion of reality meant the inglorious end of the Czech New Wave and halted unfairly the ecstatic blooming of the film-making of the country, but there is a whole legacy left behind, so many masterpieces. Twelve of the masterpieces of that era, many of which had been considered undesirable and dangerous by the regime, were chosen by the 25th AIFF, which proudly introduces them anew to Greek audiences, digitally remastered. The Spring Awakening is not another festival feature. It's a precious world of unexplored emotions that you simply must discover.
The films of the tribute are listed below:
Intimate Lighting
19/09/19, 18:00, ODEON OPERA 1
22/09/19, 21:30, DANAOS 2
It was among Krzysztof Kieślowski's ten favourite films. It was voted one of the best representatives of Czech cinema by the country's critics. Such accolades for a disarmingly modest film may seem excessive. However, the combination of humanity and humour found in the story of the reunion of two old friends and musicians during a weekend in the country is so irresistible that there can be no doubt as to the film's significance.
The Joke
20/09/19, 18:00, ODEON OPERA 1
24/09/19, 19:45, DANAOS 2
Expelled from the Communist Party and jailed because of a seemingly harmless prank, a man decides to find and take revenge on the person responsible for his woes. But life has its own games in store. The director of the legendary "Valerie and Her Week of Wonders" collaborated with Milan Kundera on the screenplay and together they produced a wonderful adaptation of the author's similarly titled book, even though the film itself was instantly banned and remained unscreened in its own country for twenty years.
Loves of a Blonde
20/09/19, 18:30, ASTOR
22/09/19, 19:00, ODEON OPERA 2
Before "One Flew Over the Cuckoo's Nest" and "Amadeus" won him two Academy Awards, Milos Forman was fast becoming one of the greatest representatives of Czechoslovak New Wave thanks to this film. Youthful misconceptions of love are skillfully exposed through a young working class girl who believes she has found the love of her life but when that turns out not to be the case she takes matters into her own hands. Nominated for a Best Foreign Language Film Academy Award.
The Fabulous Baron Munchausen
21/09/19, 18:00, DANAOS 1
28/09/19, 18:00, DANAOS 2
A marvellous bridge between the fairytale world, hand-drawn animation and the magical universe of Georges Méliès, a film that influenced Terry Gilliam more than any other and simultaneously a masterpiece of wild imagination, pioneering animation and directed for an audience of all ages.
A Report on the Party and Guests
23/09/19, 17:45, ODEON OPERA 1
28/09/19, 22:30, ODEON OPERA 2
As the carefree picnic of a group of bourgeois friends is about to come to an end, a mysterious group of men appear out of nowhere and force them to participate in a series of increasingly bizarre games. Provocative allegory, surrealism, a class system satire of Buñuel proportions and terror thinly veiled by humour and playfulness: these are but some of the reasons which led the Commmunist regime of the time to "ban forever" this notorious film, and forced its director to leave the country.
The Cremator
23/09/19, 22:00, IDEAL
When Yorgos Lanthimos listed Herz's once banned film as one of his main influences for "The Favourite", he was referring to one of the most astonishing films ever made. A risky combination of macabre comedy, unbridled nihilism and political horror surrounding the demented notion held by a crematorium owner in the Nazi-occupied Czech Republic who believes he is God's emissary sent to purify the world from corruption.
Closely Watched Trains
24/09/19, 17:30, DANAOS 1
26/09/19, 17:45, ODEON OPERA 2
There are many ways to make a film about war. The most playful and surprisingly romantic way earned Czech cinema a celebratory Best Foreign Language Film Academy Award, a box-office success, which helped introduce an international audience to the bawdy, amorous and initiatory journey of young Milos: a train station employee burdened with daily routine, Nazi threats and premature ejaculation.
Valley of the Bees
25/09/19, 17:30, ASTOR
26/09/19, 17:30, DANAOS 2
Filmed in the same year as "Marketa Lazarová", for many the best film in Czech cinema, in a similar historic setting and equally ambitious, this epic allegory by Frantisek Vlácil about the rough coming-of-age story of a boy and the conflict between human instinct and all kinds of fanaticism in the Dark Ages, is the missing link between Tarkovsky and Bergman. A notorious film, the screening of which was for decades banned by the authorities.
…And the Fifth Horseman is Fear
26/09/19, 18:00, DANAOS 1
In Nazi-occupied Prague, plagued by a society in turmoil, a middle-aged doctor resorts to a grand gesture of dignity, placing his own life at risk to tend to a wounded rebel. Zbynek Brynych directs a masterpiece of a film, overflowing with sensational samples of filmmaking, awe-inspiring and gothic, where the ghost of Kafka resides in the shadows of a modern-day world on the brink of darkness. A noteworthy film raring to be discovered.
Diamonds of the Night
27/09/19, 20:00, ASTOR
29/09/19, 22:15, ODEON OPERA 2
With one of the most extraordinary directorial debuts, the great visionary of the Czech new wave movement, turns the agonising escape of two young men from a train headed to a concentration camp into a sensational manhunt which the viewer is urged to experience as a transcending and absolutely haunting experience. With remarkable skill, frenzied sequences and astonishing cinematography, the film inspired later works such as " Son of Saul".
Romeo, Juliet and Darkness
28/09/19, 17:30, DANAOS 1
1942 in Prague, a Jewish girl is hidden in the attic of a young student to escape the Nazis. The young man tends to her and falls in love with her while the darkness lurking outside will soon threaten their loving hideaway. A heart-wrenching love story, this exquisite melancholy adaptation of the widely read similarly titled book by Jan Otcenásek still has the same ineffably intense emotional impact sixty years later.
The Shop on Main Street
29/09/19, 18:15, IDEAL
One of the greatest works of art of the 60s and justly awarded with the Best Foreign Film Academy Award and with the Special Mention award at the Cannes Film Festival. This legendary masterpiece looks back at Nazi-occupied Slovakia during World War II and the imminent Nazi persecution of Jews casting its shadow over the loving friendhsip formed between a well-meaning carpenter and a kindhearted elderly Jewish woman. This deeply compassionate film culminates into a drama that is ineffably poignant.
We appreciate the support of the Czech Centre of Athens and the help of its director, mrs Lucie Kuligová.