Prick up your ears! This is the Music & Film section of the Athens International Film Festival
This year you will discover the music scene of Scotland, the revolutionary experimentalists Tangerine Dream, the secrets of the greatest film composers, the life of John Coltrane and many more!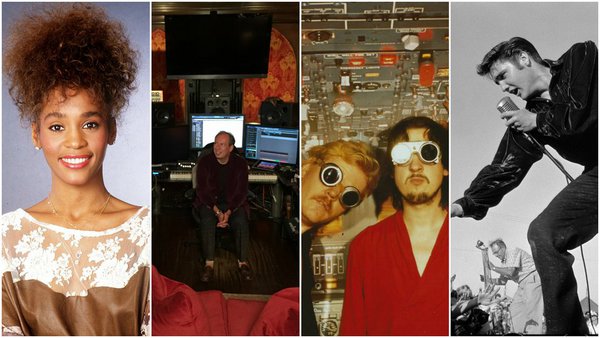 COMPETITION
Revolution of Sound. Tangerine Dream
Director Kreuzer Margarete in attendance
German pioneers of electronic music? Revolutionary experimentalists in search for the ultimate sound? Former hippies who tried to envision what the future would look like if put in notes? All the above and much more are part of a cinematic journey spread in four decades and two continents, documenting the course of a group which started off in small clubs and Berlin communes and ended up conquering the world. Edgar Froese, the legendary band leader is our guide, providing us with invaluable narrations, combined with rich(and never seen before) footage, legendary Tangerine Dream appearances and interviews with many guests, from band members to Jean Michel Jarre and Michael Mann.
Walking in the Opposite Direction
Director Waltman Marc in attendance
Staying true to the fundamental dramatic truth according to which great artists draw their brightest inspirations from the cracks of their souls, Adrian Borland of The Sound has his own tragic tale in the history of post punk. Mark Waltman's documentary presents gently and respectfully but also with a boldness that may discomfort the viewers how Borland started out as one the greatest hopes in the English new wave in music and ended up defeated by his illness in 1999 – an uneven battle that was concluded with his suicide. The Sound never became as famous as U2, though they may have deserved it, but left behind a significant discography.
Where You 're Meant to Be
Director Paul Fegan in attendance
Aidan Moffat, frontman of indie rockers Arab Strap and prominent figure of Glasgow's music scene, travels through Scotland covering traditional songs of his country, in the belief that with the appropriate lyrical interventions they can reach a new generation. At the other end of the spectrum stands legendary folk singer Sheila Stewart who defends passionately the idea that the songs and their musical heritage should not be meddled with. This is the way a magical road movie about music begins, shining a light on people's everyday stories and touching upon the joys and sorrows that inspired the songs' lyrics.
Lost in France
Director Niall McCann in attendance
In 1997 a group of young musicians travelled with their fans from Glasgow to Mauron, France, for a music festival that, though insignificant, was bound to remain unforgettable for everyone involved. These musicians were none others than Mogwai, The Delgados, Arab Strap, Alex Kapranos -who a few years later would be Franz Ferdinand's frontman- namely all those that were made into hot names by cult producing company Chemikal Underground. In "Lost in France", the same protagonists meet up 18 years later in order to repeat that journey. Faces, sounds and alcohol-soaked memories mix up to give us what was –and still is- the elite of the independent British music scene of the '90s..
Chavela (Directors: Catherine Gund and Daresha Kyi)
The life of Chavela Vargas, one of the most prominent singers of the 20th century, is illustrated in a film portrait which captures her desire to claim singing in her own "voice". Based on an interview and using her well-known songs as a means of narration, "Chavela" reveals the myths and facts of the life of a woman who dared to speak, sing and perform a fascinating role, which was none other than herself. From traditional rancheras and heartbreaking ballads to live performances and global acclaim thanks to Pedro Almodovar's films, the hopeful, painful, melodic and deeply spiritual journey of Chavela to self-acceptance makes this documentary a deeply touching cinematic "song".
Score: A Film Music Documentary (Director: Matt Schrader)
From the jazz in "James Bond" and the orchestra in "The Lord of the Rings" to the strings in "Psycho" and the bass in "Mad Max: Fury Road", cinematic images always assumed unexpected dimensions when combined with the proper music. "Score" assembles the elite of film music composers for a rare "glance" to this extremely significant role. John Williams' symphonic sound, Trent Reznor's electronica, Hans Zimmer's synthesizers, Danny Elfman's playful study of rhythm, along with other well-known names, make up the most interesting cinematic pentagram, featuring some of the most iconic moments in the history of filmmaking.
Chasing Trane: The John Coltrane Documentary (Director:John Scheinfeld)
There are music giants and then there is John Coltrane. A revolutionary sax player and composer who managed to overcome the limits of jazz and the sound confines of his time and reach something higher both culturally and spiritually. Coltrane, however, was not only a visionary artist but also a man with weaknesses and personal demons. Through an extremely informative and dense narrative style, this documentary attempts to bring together these two sides, offering at the same time a concise view of the American culture during the first half of the 20th century and most importantly the portrait of a man who tried through his music to build an invisible ladder that would lead him to God.
Promised Land (Director: Eugene Jarecki)
Everyone knows Elvis Presley, the white boy from Mississippi who was discovered in the '50s by insightful Sam Phillips and embodied a dream so hypertrophic that it could be none other than the American Dream. But few know about the Rolls Royce the King of Rock and Roll purchased in 1963. Four decades after his premature death, multi-awarded documentarist Eugene Jarecki picks up the keys of the legendary car to cross states and decades, trying to find out what the Presley phenomenon meant to America then and now. Hollywood stars, acclaimed musicians, companions and friends of the King join Jarecki for this extraordinary road trip that was a sensation in Cannes Film Festival and made "Promised Land" a rare filmic venture of political and cultural introspection.
OUT OF COMPETITION
Joe Cocker: Mad Dog With Soul (Director: John Edginton)
Truth is that no-one ever managed to outperform Joe Cocker's "With a Little Help From My Friends": this exquisite performer from Sheffield, England, used to sing as if it was his last day on Earth. He sang through fifty of the seventy years he lived (he died in 2014) and his career had a lot of ups and downs due to his temperamental personality, his alcohol and substance problems and his legendary inconsistency as to his professional endeavors. John Edginton includes all these in his great documentary, interspersed with the views of Cocker's many fans (among which Billy Joel, Jimmy Webb, Randy Newman etc).
Whitney: Can I Be Me (Directors: Nick Broomfield, Rudi Dolezal)
Based on footage from Whitney Houston' s final great tour, "Can I Be Me" is the backwards unraveling of the story of a great career and a notoriously turbulent life. The film starts when Houston reaches the most triumphant high note in "I Will Always Love You". What follows is the relentless downfall and the respectful but revealing portrait of a woman that was convinced she didn't deserve happiness. Nick Broomfield makes his case in the first ten minutes of the film and goes on to tell the story of a predetermined end that was brought upon by the systematic alteration of Houston's personality to such a tragic extent that the pop princess's desperate cry for help ("Can I Be Me?) sounded as a sample in the music world, even to the ears of her closest collaborators.
Nico, 1988 (Director: Susanna Sicchiarelli)
Respecting the uncompromising spirit of Christa Päffgen (as Nico, the one-time muse of Andy Warhol and singer of the Velvet Underground demanded that she would be called), Susana Nicchiarelli avoids sentimentalism and directs an unusual musical biography. The Italian director makes use of tense covers and original songs to emphasize the music and the passionate performances by exquisite Trine Dyrholm and to present the mentality of a damaged icon. Narrating with great consistency the story of a woman who tried to shake off whatever linked her to her legendary past, "Nico, 1988" becomes the myth of an entire generation that was feeding on self-destruction.