Special Screenings: Donnie Darko and his Rabbit are back in glorious 4K
The ultimate cult film of the noughties for the first time on the big screen in Greece and in the 4K
quality it deserves. Dark. Darker. Darko.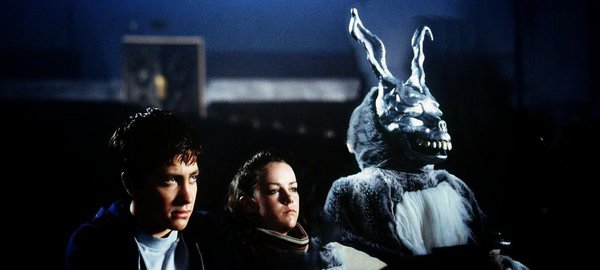 Even though Kelly's directorial debut was initially confronted with many distribution problems, this unique amalgam of teenage science fiction and 80's nostalgia, it finally became a worthy reference film for its fanatical audience. "Donnie Darko" is described by its director as the cinematographic equivalent of Dr. Salinger's "Catcher in the Rye" and combines an eclectic cast of names such as Jake Gyllenhaall, his sister Maggie and Jena Malone ("Hunger Games", "Neon Demon"), along with relatives Patrick Swayze and Drew Barrymore.
Accompanied with an awesome soundtrack and a great idea, "Donnie Darko" is the cinematograpic mixture of stress, obsession and the tenderness of the teen years. A not ordinary "rebel without a cause" dares to follow the Rabbit down the adulthood hole and get himself, not in Wonderland, but in a land full of doubt.
Its prominence as a cult phenomenon via the video-club shelves has brought on a fascinating debate that goes on until now in blogs, comics, alternative cuts – even in a vulgar sequel. Against all pseudoscience, for some of us time stopped on October 30, 1988, at dawn. "Donnie Darko" is just like that nostalgic '80s song that you seem to like more than you thought (and now you can't stop listening to).
The 23rd Athens International Film Festival is proud to present the 4K quality version of the film at 27/9 (23:15, Ideal) to attract its fans, both old and new.