My Entire High School Sinking Into the Sea
25/9/2017, 18:00, Odeon Opera 1
Following a strong earthquake, a high school breaks away from the mainland and starts drifting in the Pacific Ocean. Susan Sarandon, Lena Dunham, Jason Schwartzman and John Cameron Mitchell lend their voices to this adult animated allegory about American modern-day society, beautifully illustrated with crayons, markers and watercolour.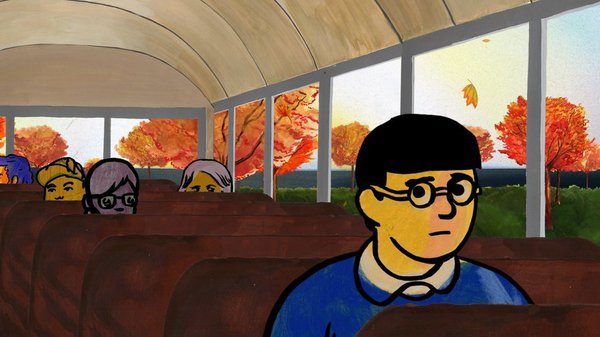 A student at a school built on the edge of a cliff is trying to warn his fellow-students for the shaky ground beneath their feet. Due to his "tabloid" past in the school newspaper no one believes him until an earthquake sends the building right into the Pacific Ocean.
With a significant journey in comics, Dash Shaw makes his film debut recreating his personal style. The result is a collage of digital and handmade paintings with a dizzying effect, ideal for describing the confusion that lies in the thematic core of the film. By emphasizing the corruption, the problematic media and the social groups in the miniature world of a sinking school, the director creates an allegory for today's crumbling American society.
Director: Dash Shaw
Screenwriter: Dash Shaw
Music: Rani Sharone
Editor: Alex Abrahams, Lance Edmands
Principal Cast: Jason Schwartzman, Lena Dunham, Reggie Watts, Maya Rudolph, Susan Sarandon
USA | 2016 | Color | DCP | 75' | English