Last Men In Aleppo / De Sidste Mænd i Aleppo
26/9/2017, 17:30, Danaos 1
As the bombardment of Syria is ongoing, a group of civilians decide not to abandon Aleppo and undertake the rescue of people trapped in the rubble of a once beautiful city. This unsettling chronicle of a battle and the people who decided to stay and take part in an unequal fight, won the Grand Jury Prize at the Sundance Film Festival.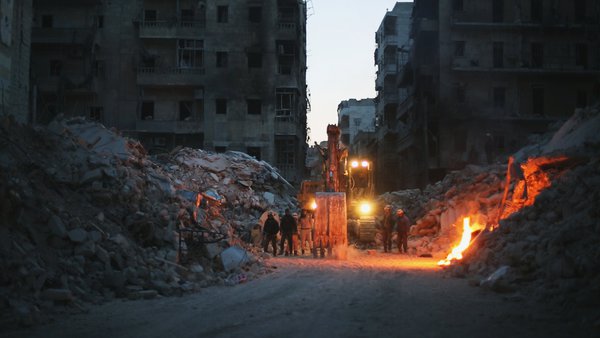 During the five years of the civil war that destroyed the majority of Syria's big cities, a group of citizens searches under the debris where once squares and buildings had been, to save people hit by bombs. Feras Fayyad's camera follows the group "White Helmets" that has been rescuing civilians since 2013.
A staggering journey shot during the time of the bombings in Aleppo which put the lives of the participants at risk. The film was first screened at Sundance Film Festival winning the World Cinema Grand Jury Prize for documentary but also gaining the appreciation of the international festival network, having a triumphant course the months that followed.
Director: Feras Fayyad
DoP: Fadi al Halabi, Thaer Mohammed, Mojahed Abo Al Joud
Music: Karsten Fundal
Editors: Steen Johannessen, Michael Bauer
Denmark, Syria | 2017 | Color | DCP | 104' | Arabic