The Isle of Medea / L' Isola di Medea
29/9/2017, 18:00, Danaos 1
Two of the greatest artistic personalities of the 20th century came together on a tiny island in Italy: Maria Callas and Pier Paolo Pasolini. The testimonials of friends and colleagues help chronicle the events of this bold cinematic encounter, for the purpose of filming "Medea", which became tainted by unrequited love, a subject which dominated the interest of the tabloids of the time. This will be the world premiere of the film, on the occasion of the 40th anniversary of Maria Callas' death. Director in attendance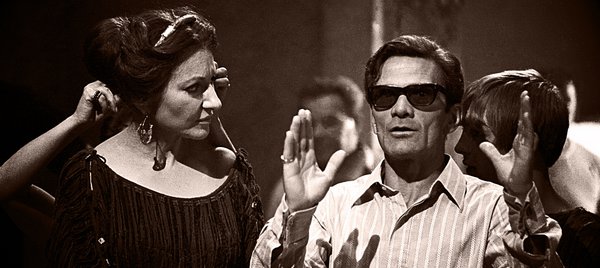 The shooting of "Medea" in 1969 was the occasion for the meeting of two colossal artists from different worlds. On the one hand, Pier Paolo Pasolini, with his passions and interests in the culture of the working class and on the other the absolute opera diva, Maria Callas, who shared a tiny cabin with the rest women of the crew.
The initial reluctance soon turned into an intense relationship of genuine appreciation that the tabloids of the time interpreted as a photogenic love affair. However, through the testimonies of their coworkers it turns out that in Motta Safon, the "isle of Pasolini" as it became known, an unfulfilled love was born and died. This transforms Naitza's documentary from a plain making-of to a lyrical study on solitude. Director in attendance
Director: Sergio Naitza
Screenwriter: Sergio Naitza
DoP: Luca Melis
Music: Marco Rocca
Editor: Davide Melis
Featuring: Piero Tosi, Gabriella Pescucci, Ninetto Davoli, Nadia Stancioff, Dacia Maraini, Giuseppe Gentile
Italy | 2017 | Color | DCP | 90' | Italian
L'isola di Medea (The isle of Medea) - trailer from Karel on Vimeo.