Fat City
29/9/2017, 17:30, Ideal
In one of the top films of the 70s two boxers, one on his way out and the other on his way in, tour the country getting beat up for a few dollars in games which are usually rigged. All this makes for a melancholy yet tender glimpse of what used to be the American Dream. A great performance by the underrated Stacy Keach, an Oscar nomination for Susan Tyrrell and one of the first great appearances by Jeff Bridges.
Digitally restored version.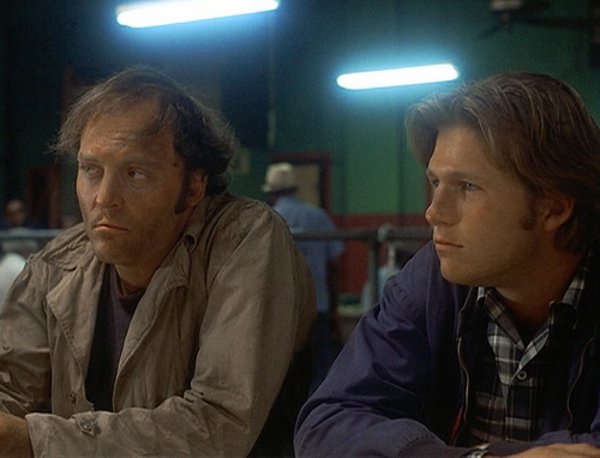 After decades of directing Hollywood's most glamorous stories, the great John Huston was bound to have a new youthful period during the '70s, directing some of the most innovative films in cinema. The invisible fringes of American society and its pariahs, namely two low class boxers, one already finished the other promising, who scour the country and bleed for a few dollars at fixed fights, constitute the dull, sultry setting for a melancholic, humane and emotional plunge to the bottom of American dream, in cheap hotels rooms, squalid bars and seedy dives.
Huston respectfully tells the story of broken people who have to fight daily for survival and decency while looking for a way "to make it through the night", as Kris Kristofferson sings. A great performance by underestimated Stacy Keach, an academy award nomination for Susan Tyrrell and one of fist Jeff Bridges' great moments.
Director: John Huston
Screenwriter: Leonard Gardner
DoP: Conrad L. Hall
Music: Kenneth Hall
Editor: Walter Thompson
Principal Cast: Stacy Keach, Jeff Bridges, Susan Tyrrell, Candy Clark, Nicholas Colasanto, Curtis Cokes, Sixto Rodriguez
USA | 1972 | Color | DCP | 100' | English