The Man Who Would Be King
24/9/2017, 17:15, Danaos 1
Michael Caine and Sean Connery's characters are two ex British military officers who have become thieves and who are about to embark on the greatest adventure of their lives when they decide to travel to uncharted territories of Asia in order to take advantage of the local tribes. Snowstorms, clashes, treasures and cold-blooded ruthlessness are elements in this larger than life, old-style saga. Huston's film was nominated for four Academy Awards and will be shown in 35 mm presentation.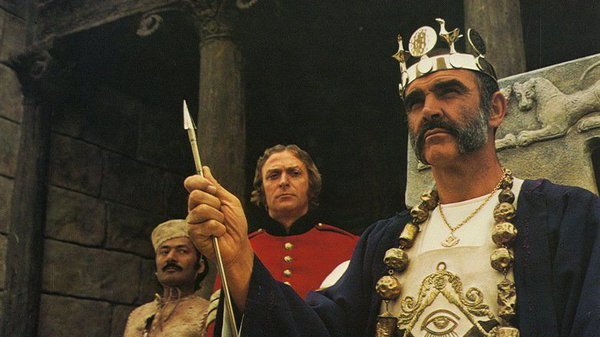 Rudyard Kipling's book had been Houston's keen desire since the '50s and despite the difficulties he managed in his '70s to make this masterful epic, with an ideal starring pair (Connery and Caine), two characters that after years of experience in India as instruments of the imperialistic British empire they challenge openly the boundaries between legal and illegal.
Their journey away from the traces of western civilization in order to become local kings and gain as much as they can before they return triumphantly, is full of adventures and conspiracies, an ode to adventurism and megalomania, "diseases" which the director often addressed passionately during his career.
Director: John Huston
Screenwriters: John Huston, Gladys Hill
DoP: Oswald Morris
Music: Maurice Jarre
Editor: Russell Lloyd
Principal Cast: Sean Connery, Michael Caine, Christopher Plummer, Saeed Jaffrey, Shakira Caine
UK, USA | 1975 | Color | 35mm | 129' | English