Wise Blood
30/9/2017, 17:30, Odeon Opera 1
Based on a novel by Flannery O' Connor, Huston indulges his love for intransigent and romantic characters and pushes them to extremes through a story of a young psychotic man and the heretical uprising against his religious upbringing. Combining farce with tragedy "Wise Blood" is a lark around the American south on the verge of madness, capturing human comedy at its weirdest. Brad Dourif gives a phenomenal performance.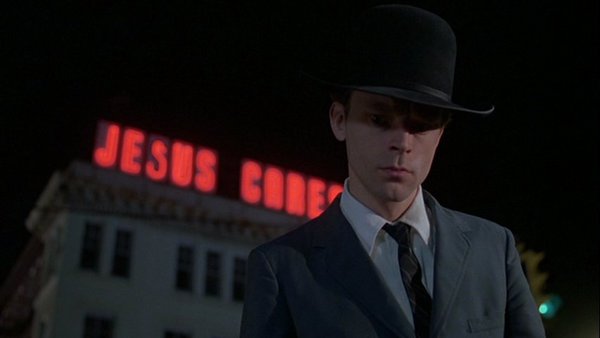 This may be one of John Huston's best films but very few were lucky enough to watch it. But what is "Wise Blood" besides a neglected and almost lost creation?
Based on Flannery O' Connor's titular first novel, Huston takes his adoration for uncompromising and romantic heroes to another level, through the story of a psychotic young man and his heretic rebellion against his conservative religious upbringing. An American gothic film in the form of a parable about a person's attitude towards religion that brings uniquely together farce and tragedy, capturing the human comedy in its weirdest manifestations. Protagonist Brad Dourif gives a memorable performance.
Director: John Huston
Screenwriters: Benedict Fitzgerald, Michael Fitzgerald, Flannery O' Connor (novel)
DoP: Gerry Fisher
Music: Alex North
Editor: Roberto Silvi
Principal Cast: Brad Dourif, John Huston, Dan Shor, Harry Dean Stanton, Amy Wright
USA | 1979 | Color | DCP | 108' | English