23rd Athens International Film Festival: The Awards
"The Rider", "Chavela" and "Copa-Loca" gained the top prizes of this year's festival!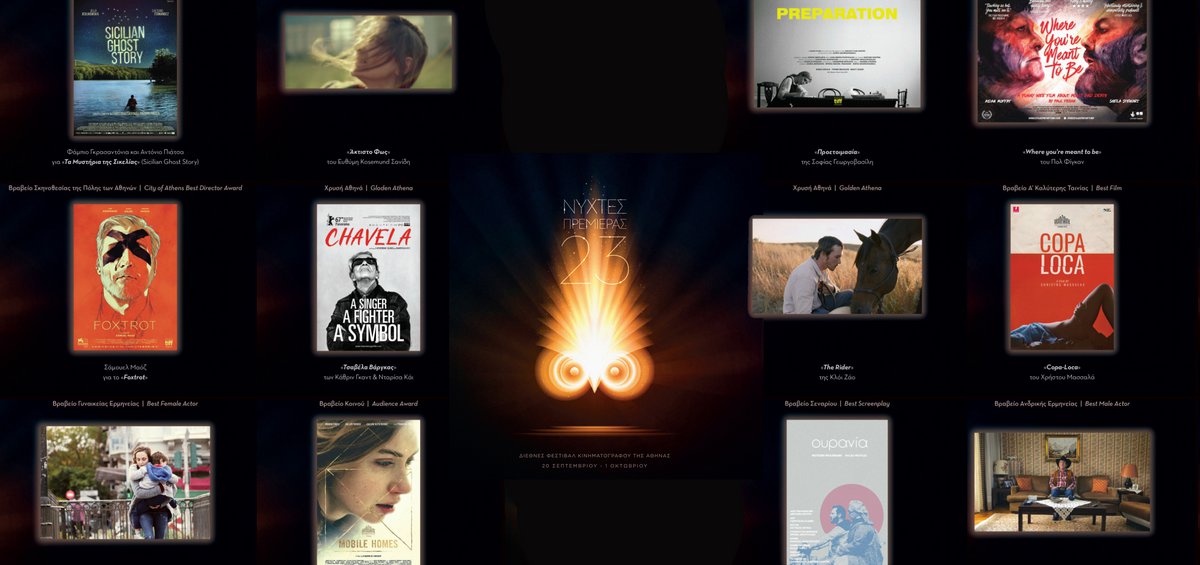 GOLDEN ATHENA /INTERNATIONAL COMPETITION AWARDS
The Jury of the International Competition of the 23rd Athens International Film Festival is composed of:
Kerem Ayan (President), director of the Istanbul Film Festival
Alex Ritman, UK Correspondent for the Hollywood Reporter
Giona A. Nazzaro, representative of the Venice International Film Critics' Week. Film critic, author, journalist and programmer.
Doris Kuhn, member of Werkstattkino and film critic at Süddeutsche Zeitung and Filmdienst
Jasmin Basic, film historian and programmer who works with various festivals in Switzerland and other festivals around the world.

The Golden Athena Award:
"The Rider", by Chloé Zhao
"The Best Film Award goes to The Rider, for the innovative and challenging ways by which the young director reshapes the boundaries between documentary and fiction, and also for the exceedingly creative and tender approach towards its subject."
City of Athens Best Director Award:
"Foxtrot", by Samuel Maoz
"In this biting deadpan satire, with a well-crafted, confident and visually striking narrative, the director dissects the Israeli/Palestinian conflict by putting into play personal and collective tragedies. The Prize goes to Samuel Maoz for Foxtrot."
Best Screenplay:
"Sicilian Ghost Story", by Fabio Grassadonia and Antonio Piazza
"A visually surprising film, written like a nightmarish fairy tale. An elegy to resistance and dignity. A screenplay that rewrites the unwritten rules of the Italian mafia movie."
Audience Award:
"Mobile Homes", by Vladimir de Fontenay.
Sponsor of the Audience Award is Popcode powered by Oneman.gr.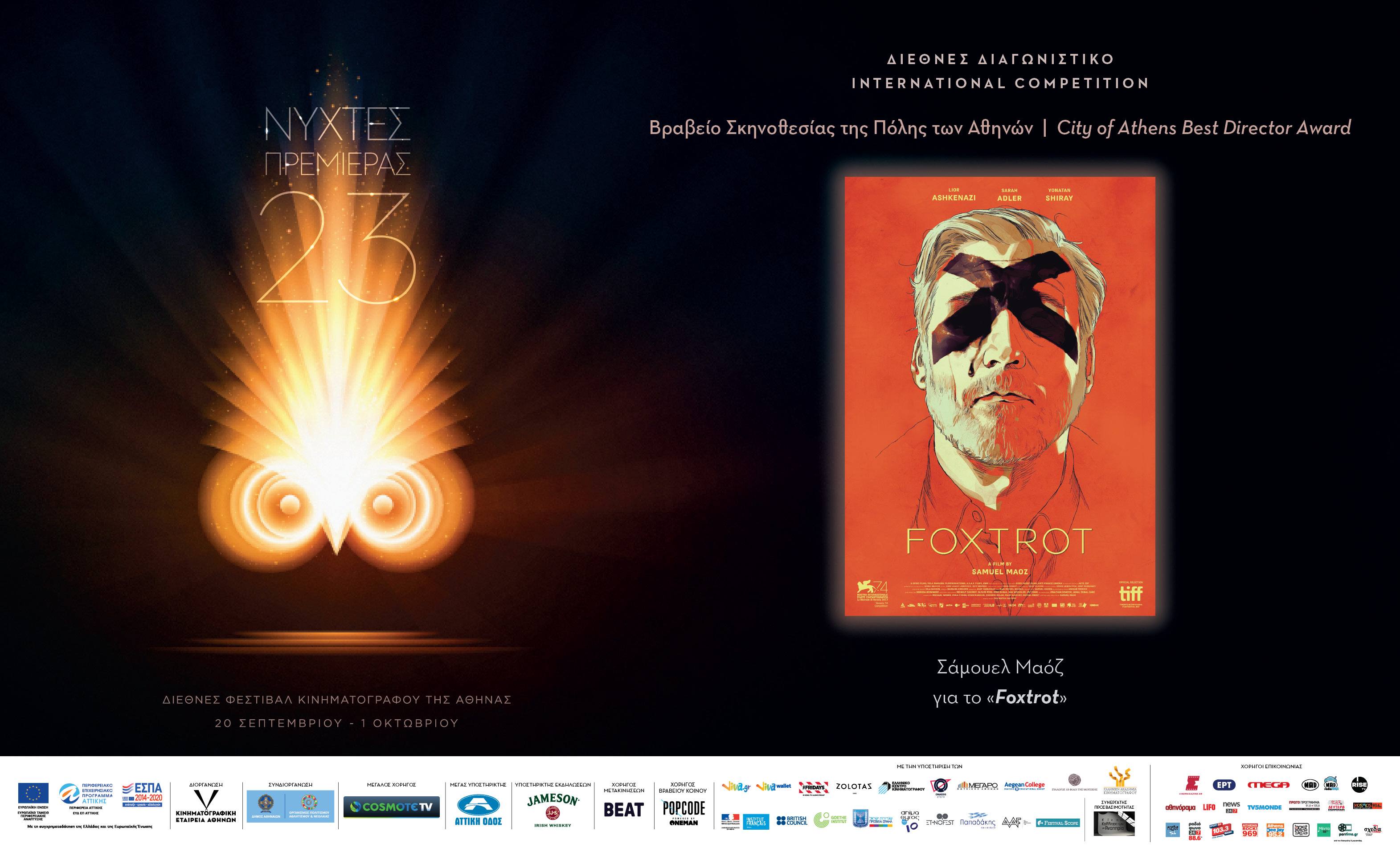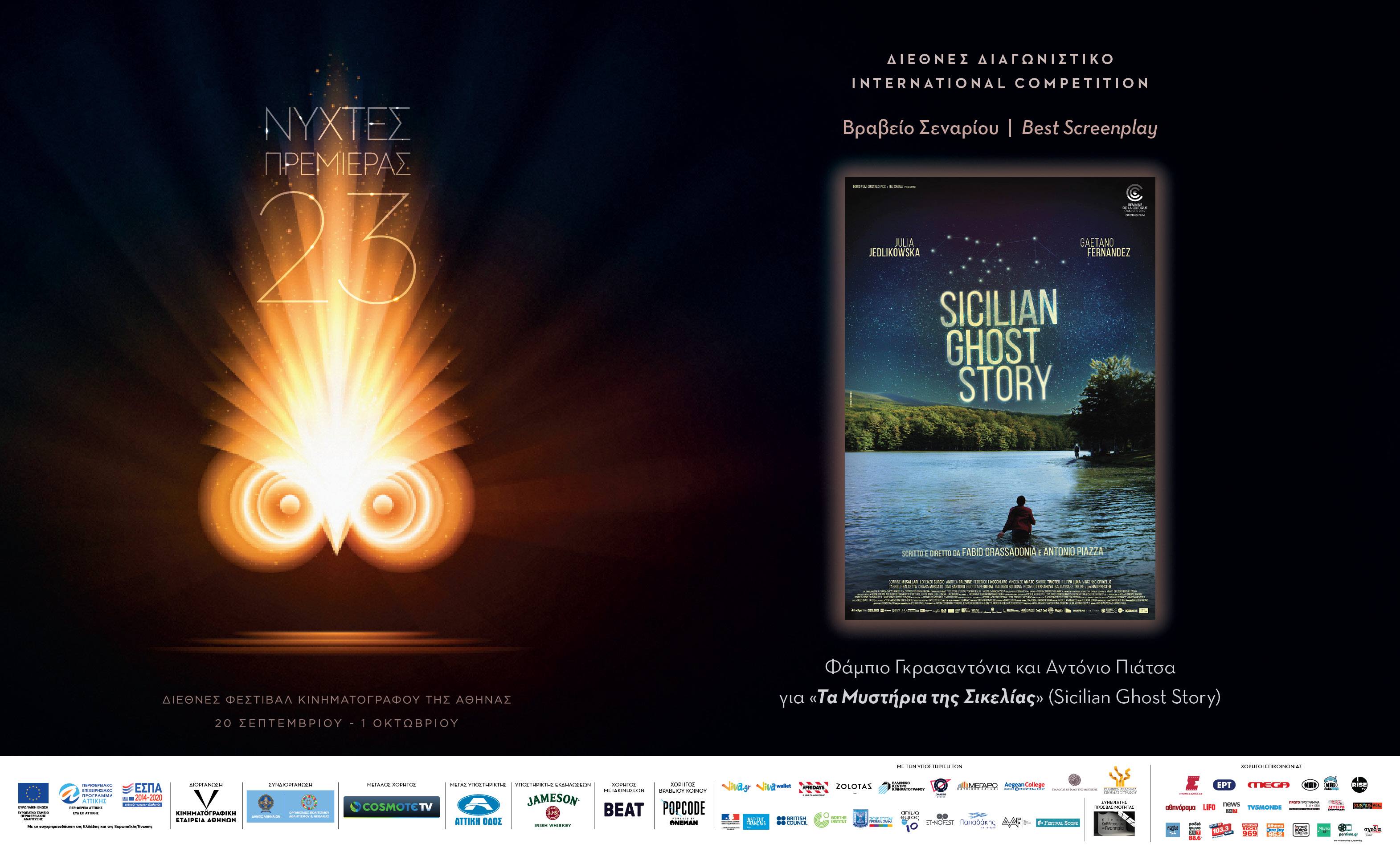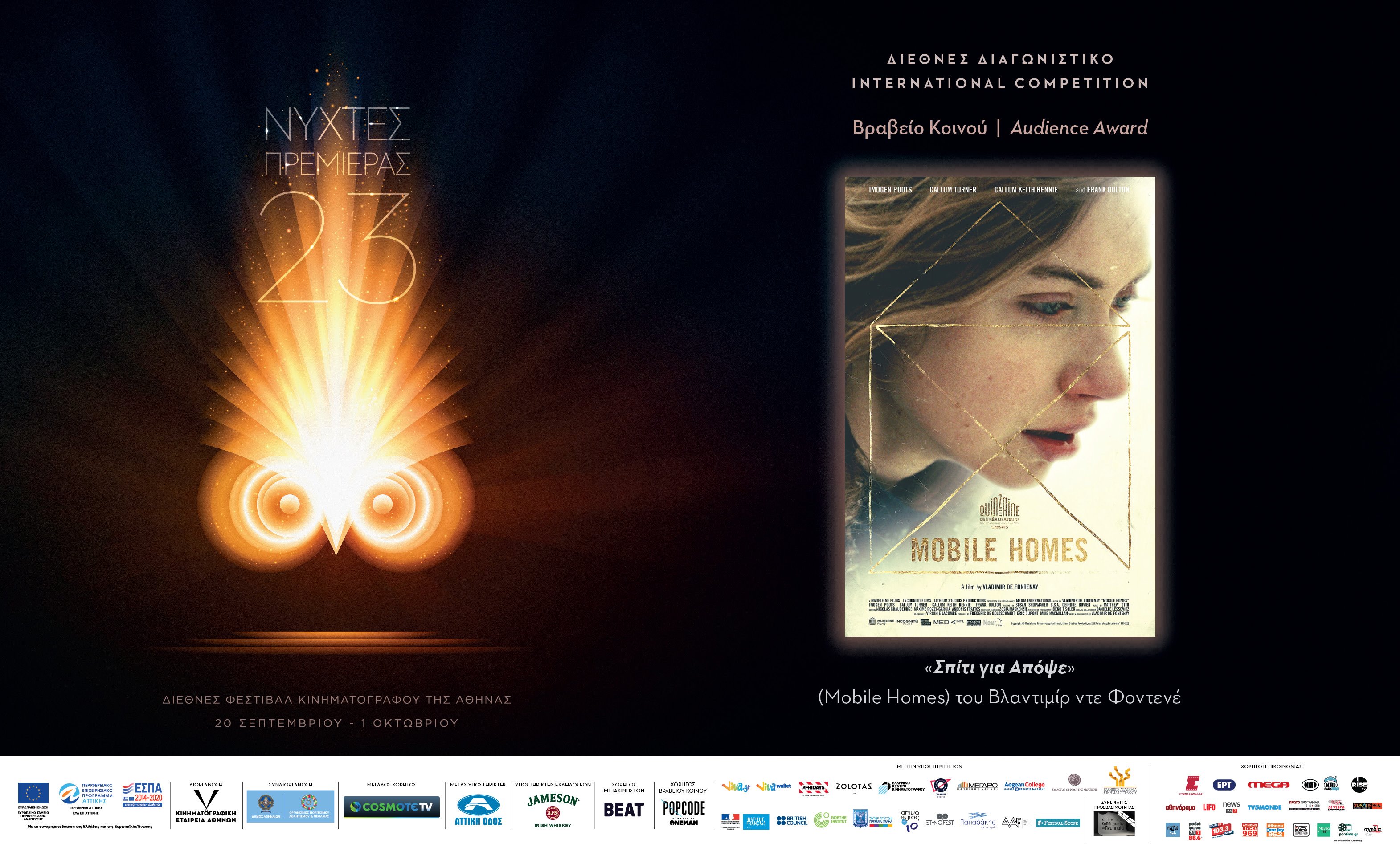 GOLDEN ATHENA / MUSIC & FILM - IN COMPETITION
The Jury is composed of:

Tim Stevens (President), head of production at the British Film Institute
Andy McCluskey, musician, songwriter, producer, singer and base player and co-founder of Orchestral Manoeuvres in the Dark (OMD)
Uli Schüppel, scriptwriter, director and producer of 14 feature-length and music films.
Sergi Steegmann from the international film sales company "The Match Factory"
Νalyssa Green, composer, songwriter, singer
Golden Athena Best Music & Film Award:
"Chavela", by Catherine Gund and Daresha Kyi
Special Jury Prize:
"Where Υou're Μeant to Βe", by Paul Fegan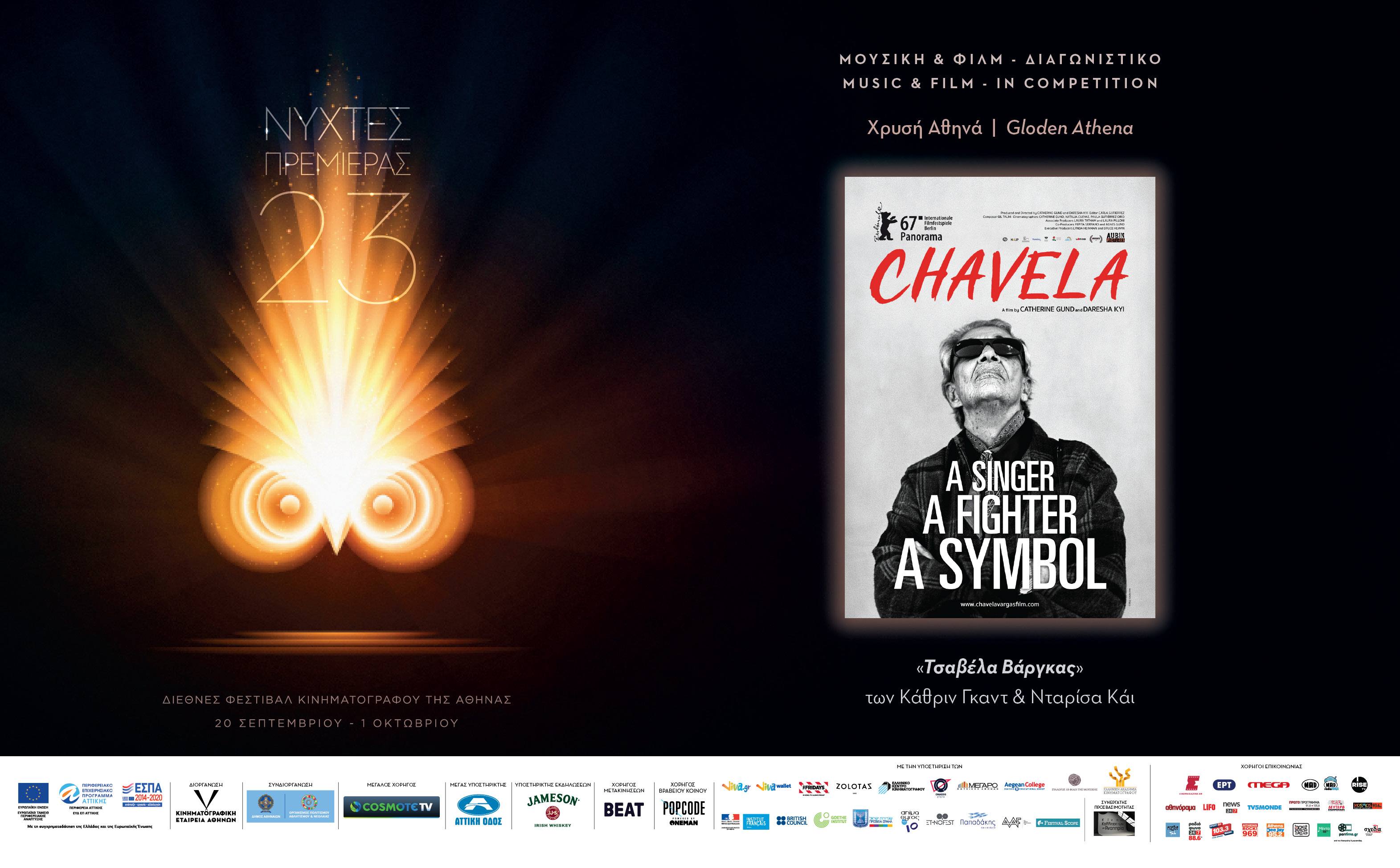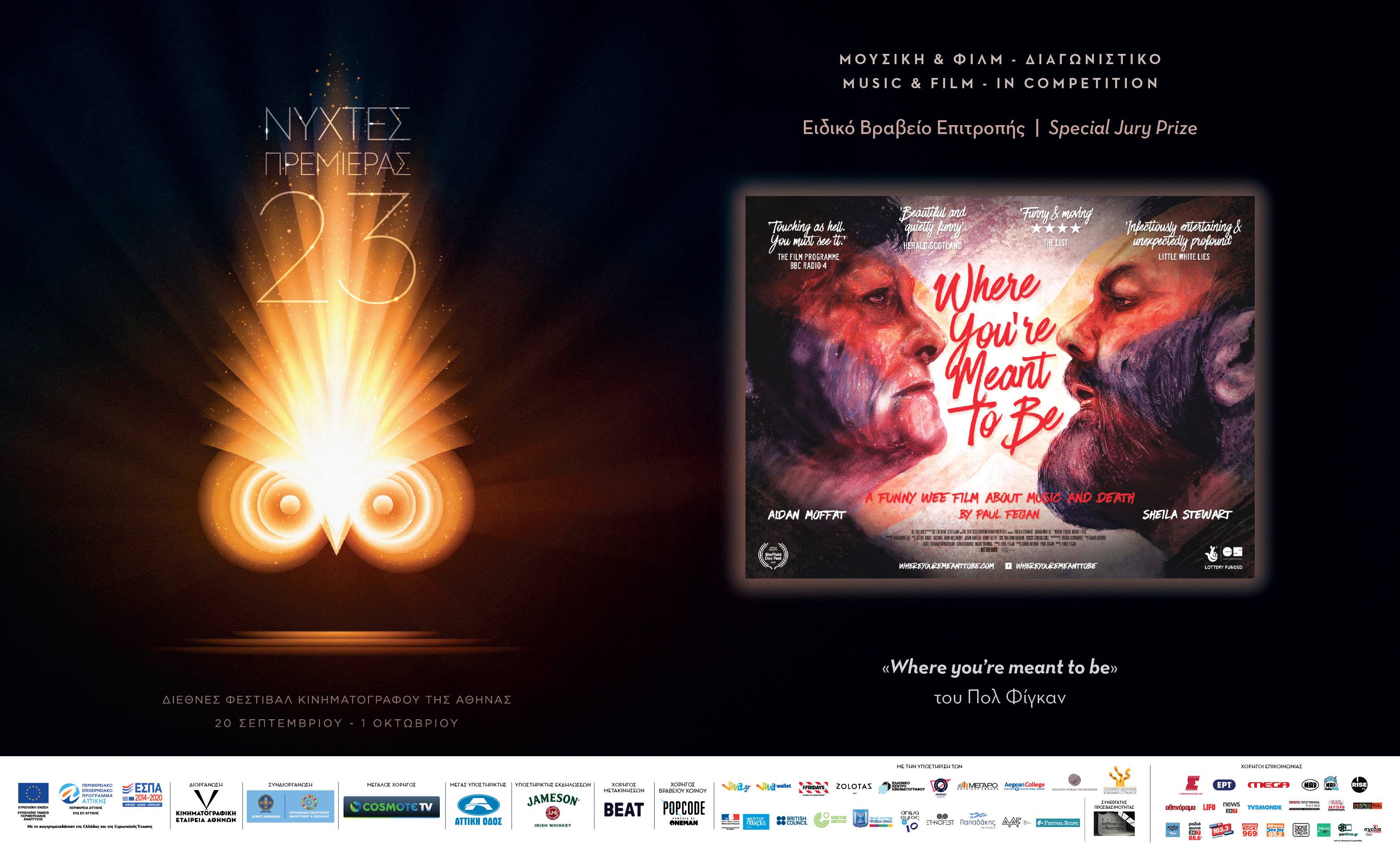 GREEK SHORT STORIES - IN COMPETITION
The Jury is composed of:
Giorgos Zois (President), director and producer
Evaggelia Andreadaki , actor
Eva Stefani , director and assistant Professor at the Theatre Studies department of the University of Athens
Kallia Papadaki, author
Robbie Eksiel, film critic
Best Film Award:
"Copa-Loca" by Christos Massalas
The winner of this award will also receive a €2000 prize courtesy of the Greek Film Centre.
Best Film Award (Second Place):
"Unbuilt Light", by Efthimis Kosemund Sanidis
Best Director:
Christos Massalas for "Copa-Loca"
Best Screenplay:
Despoina Kourti for "Ourania"
Best Female Actor:
Elena Mavridou for "Tracks" by Elina Fessa
Best Male Actor:
Manolis Mavromatakis for "Cowboy" by Giannis Haritidis
Special Jury Mention:
"Preparation" by Sofia Georgovassili
Special Jury Mention:
Christos Voudouris for his cinematography of "Unbuilt Light" by Efthimis Kosemund Sanidis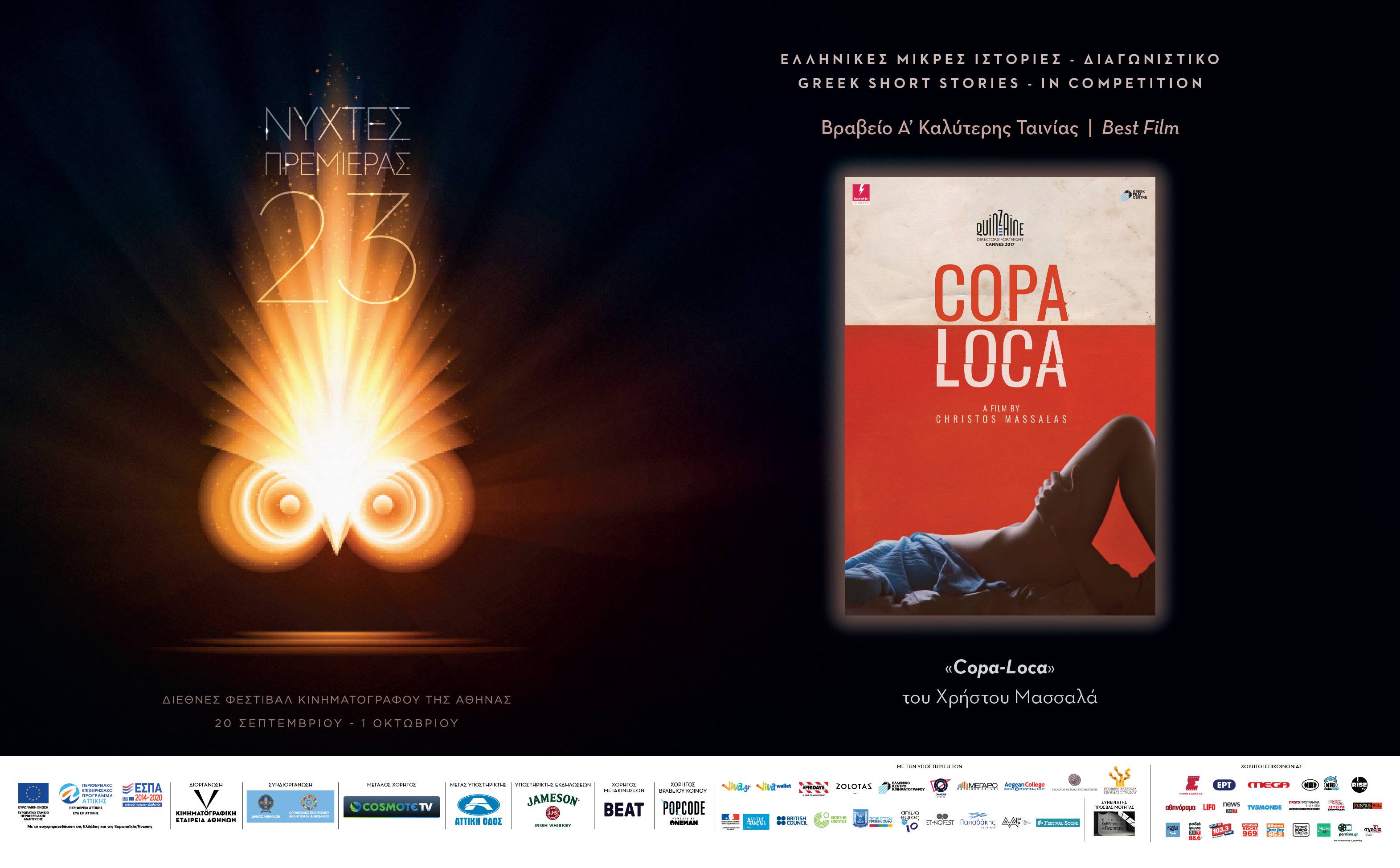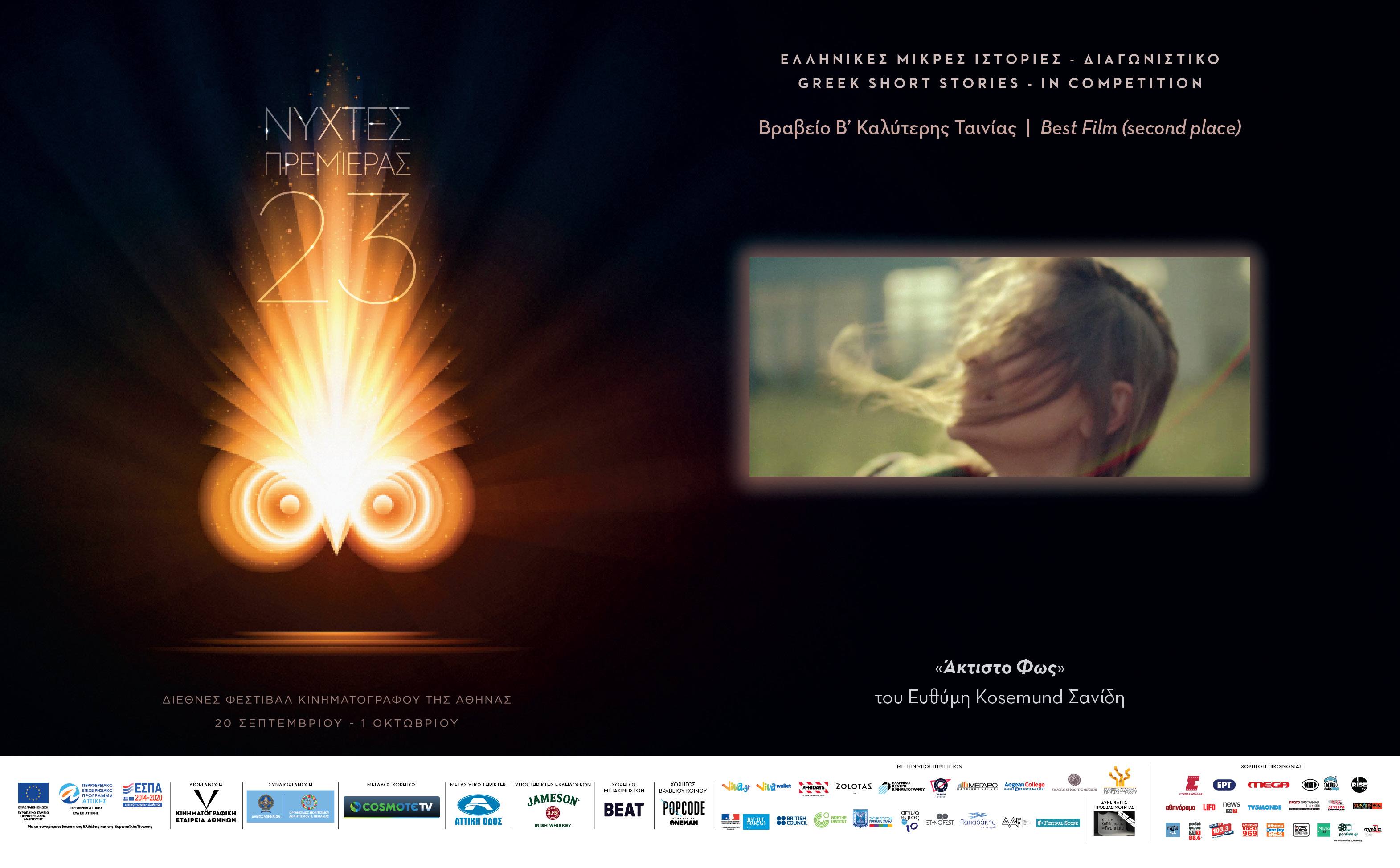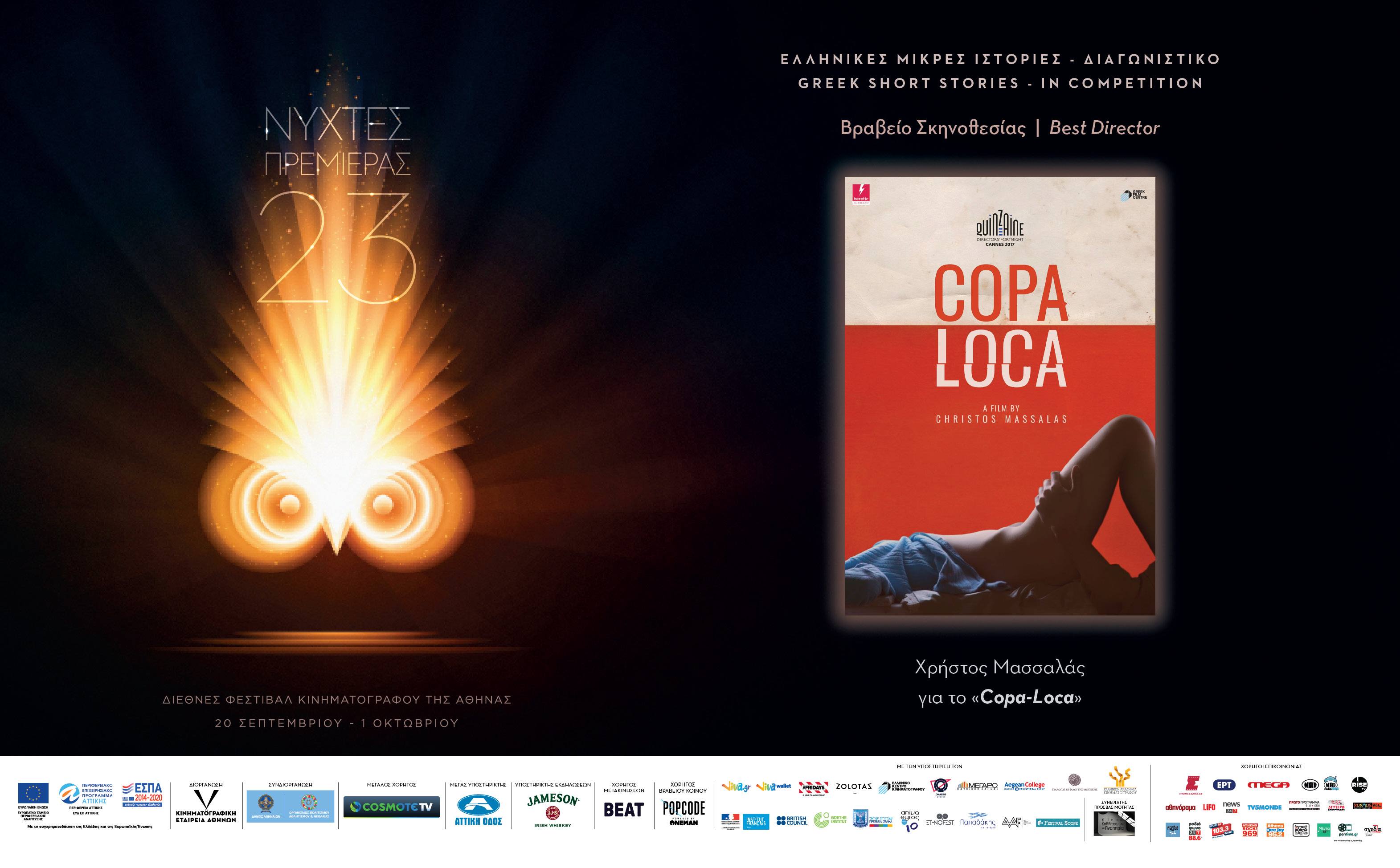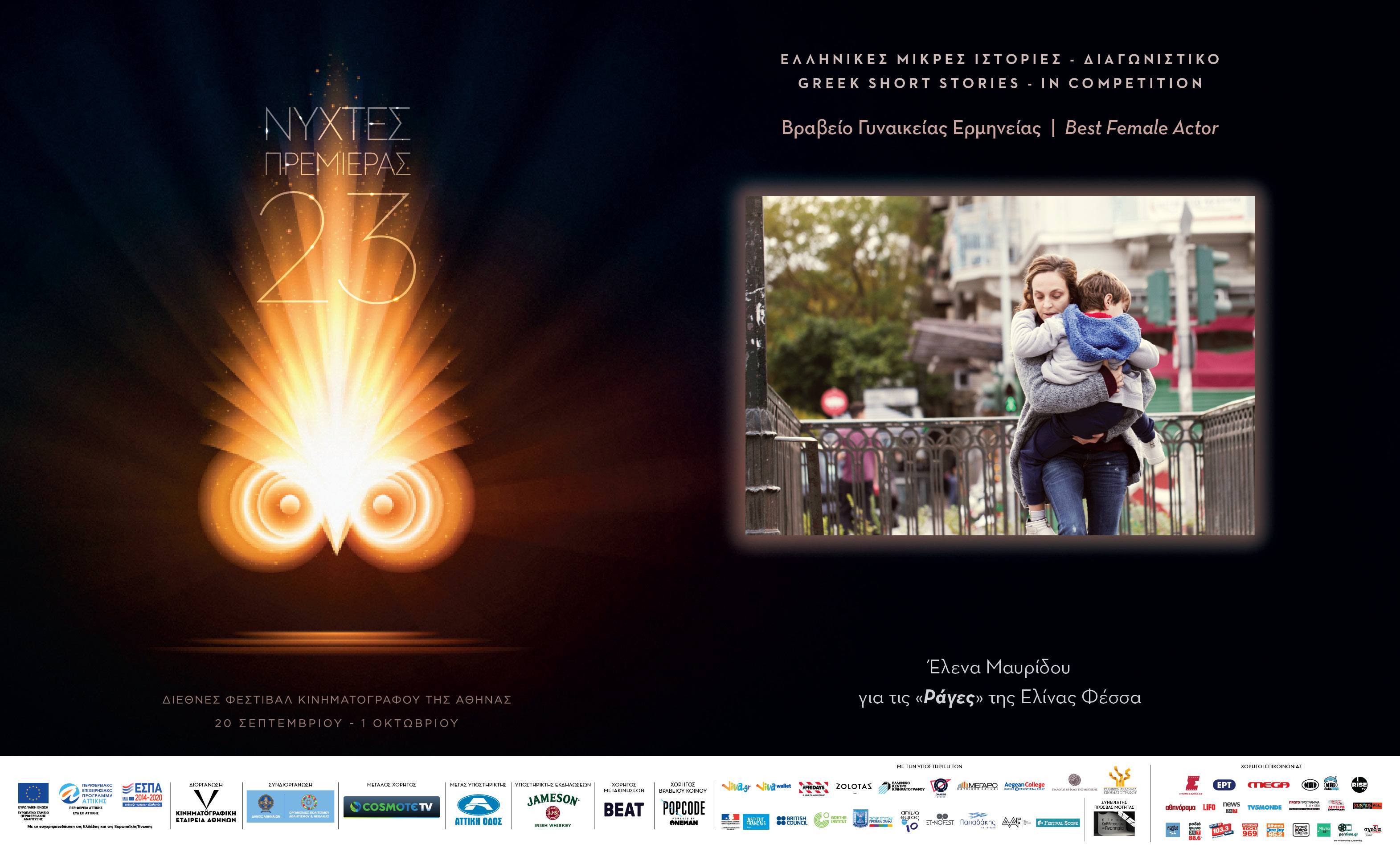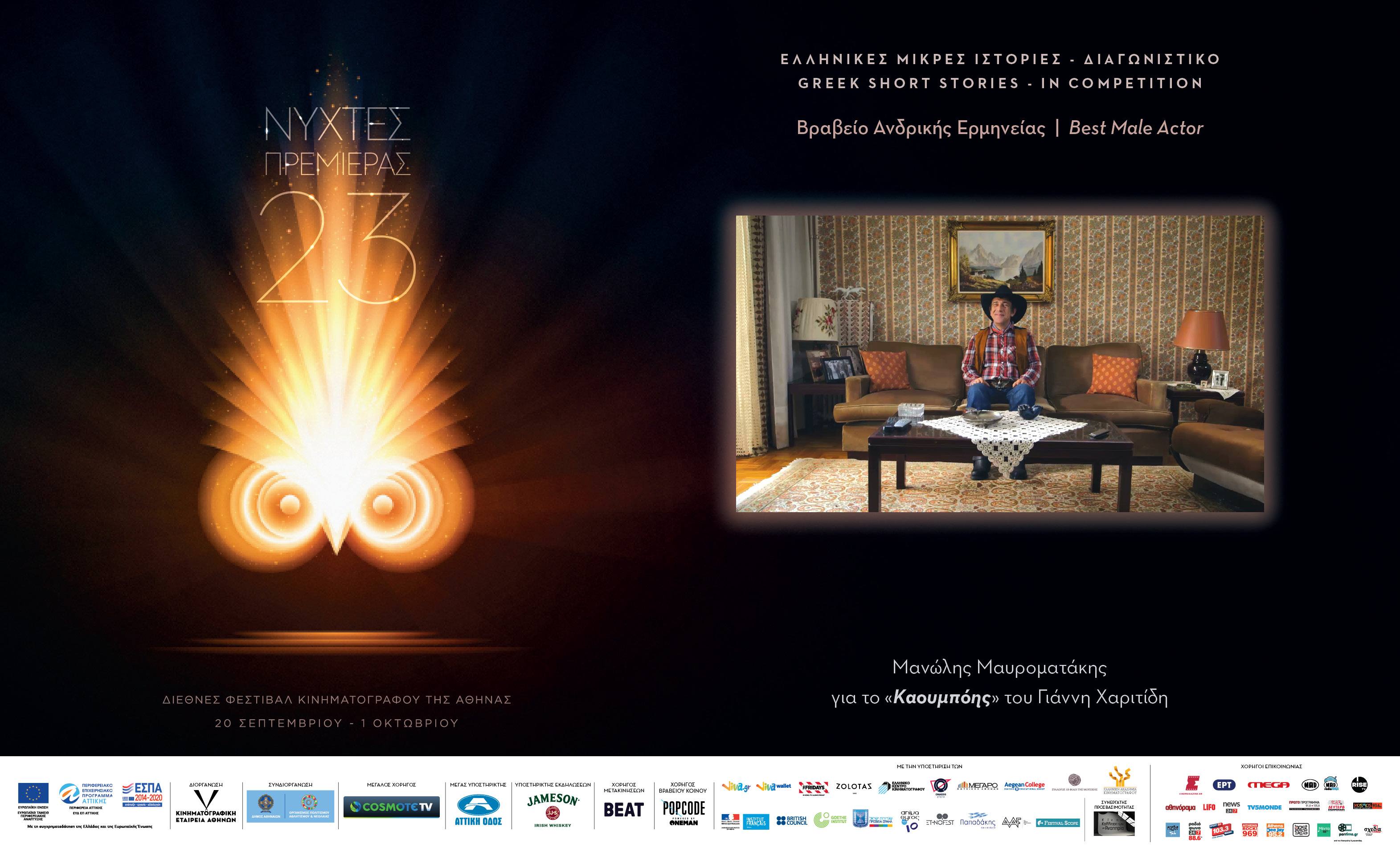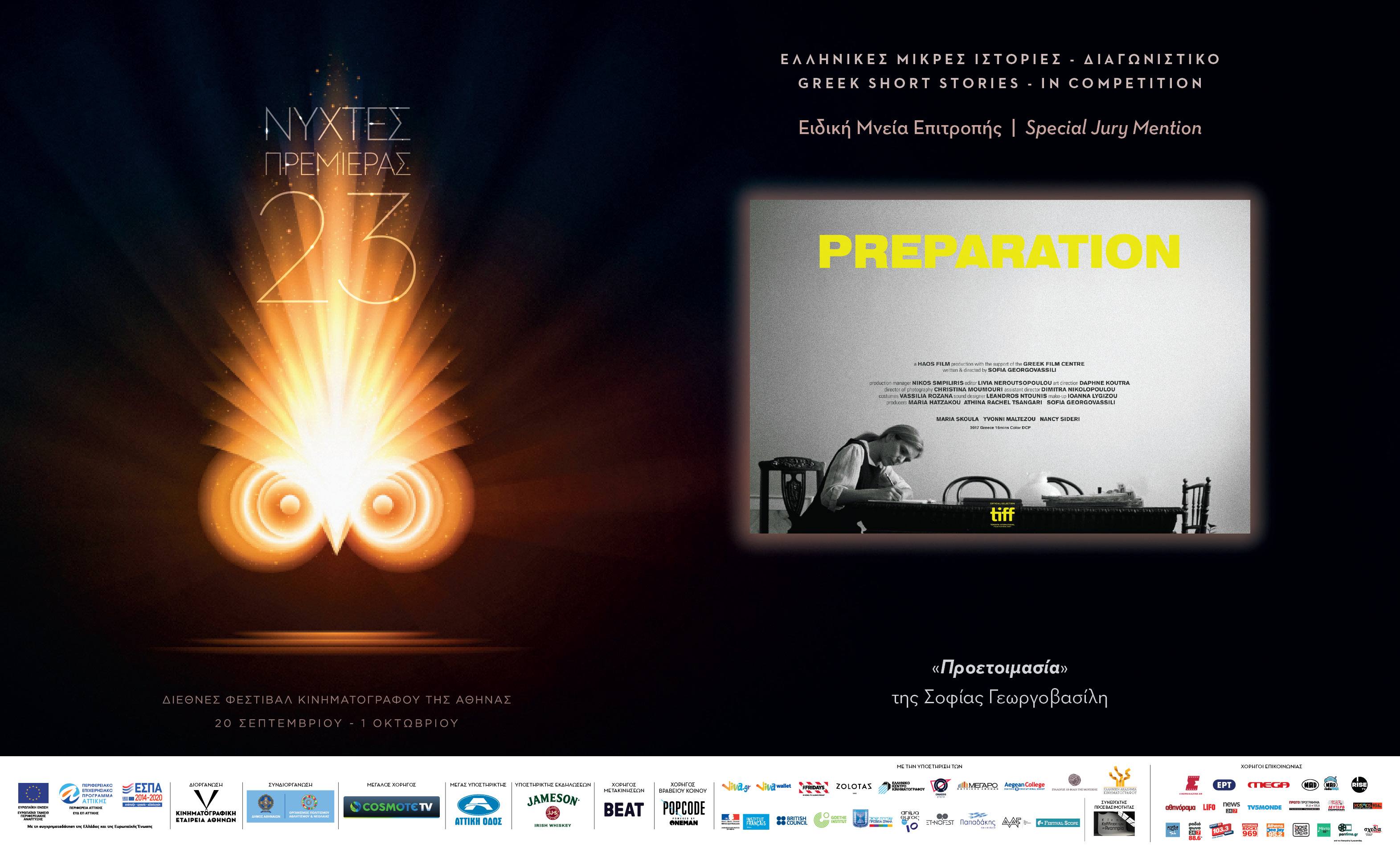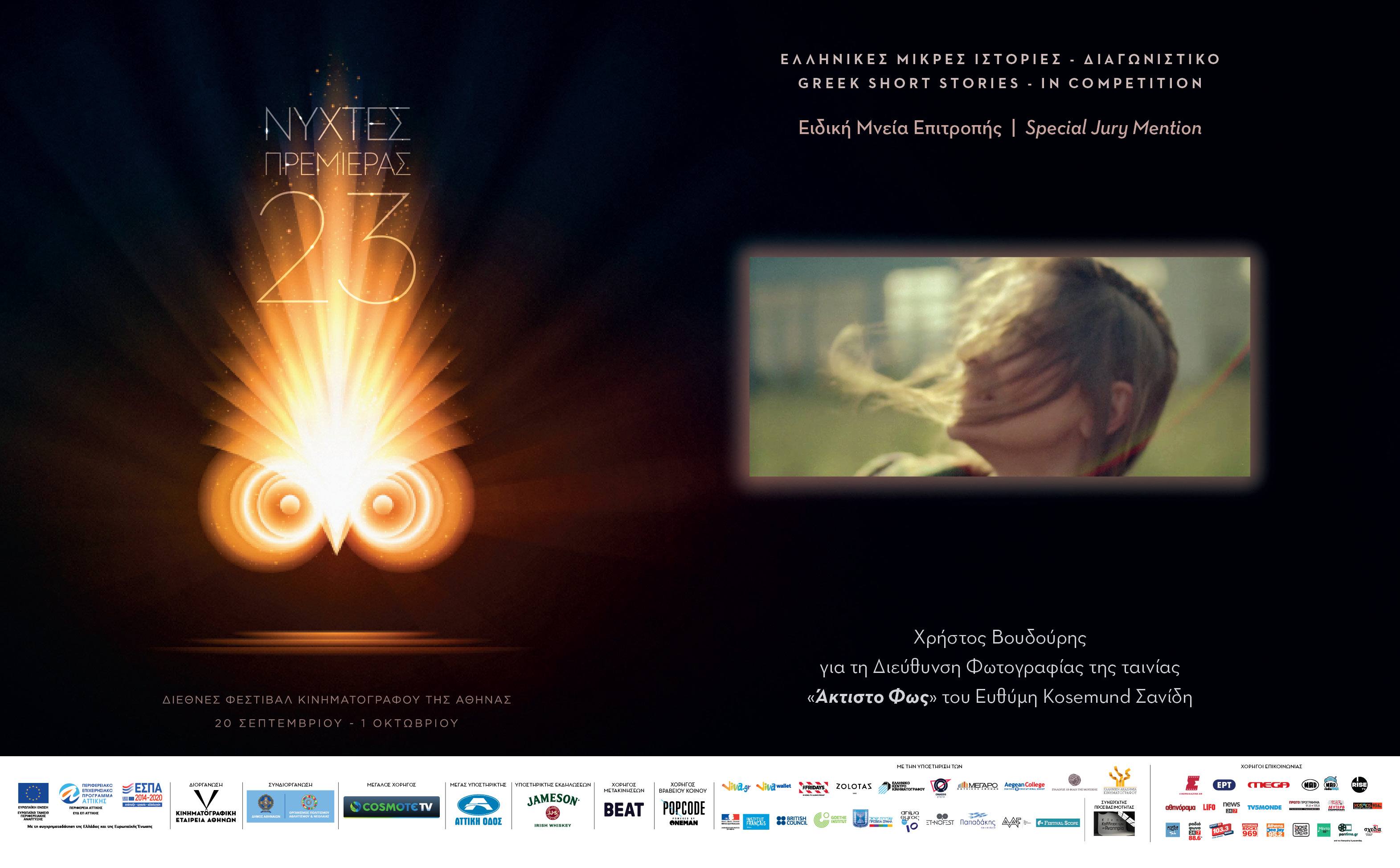 Publication date: 2017-09-30 22:17:27