Woody Allen at the official screening of his new film "Coup de Chance" in Athens
With great success and Hollywood flair, Spentzos Film, in collaboration with the 29th Athens International Film Festival, organized the official screening of Woody Allen's new film "Coup de Chance" at Aegli open-air cinema in the Garden of the Zappeion Megaron, in the presence of the famous filmmaker.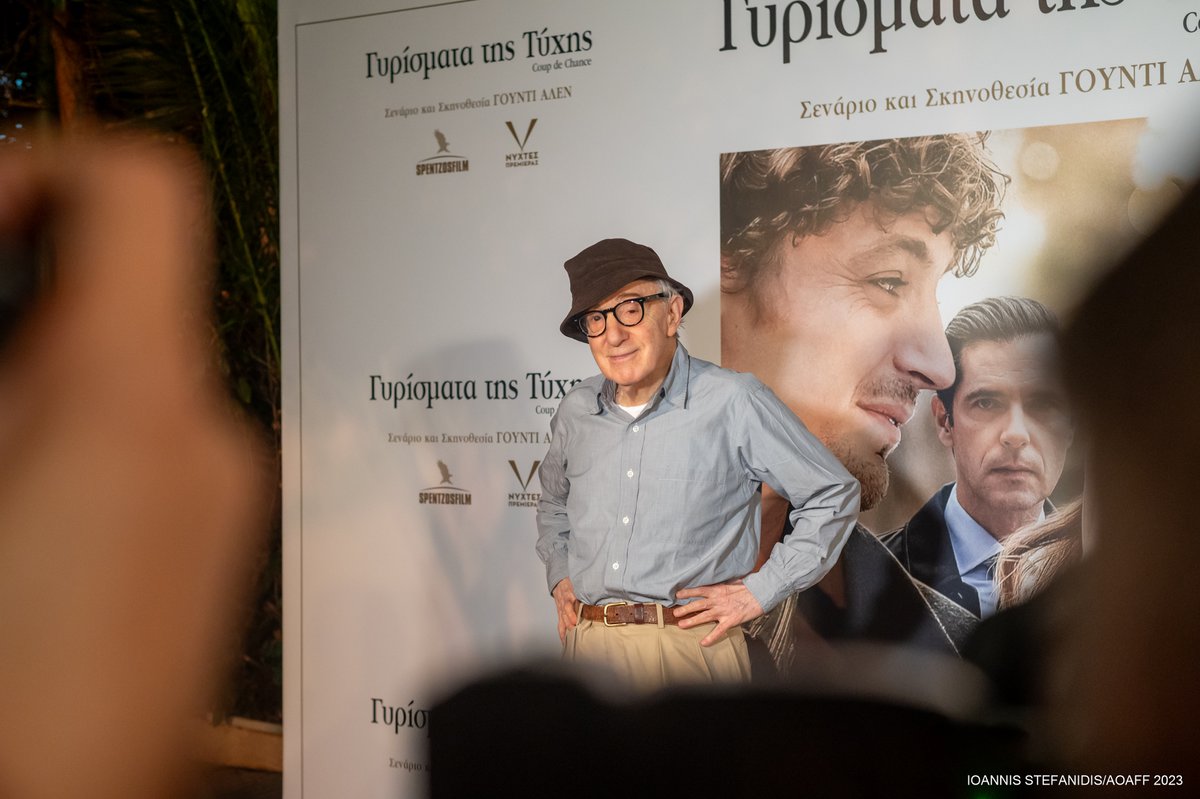 The event, which took place on Friday evening September 8th, was attended by a group of artists, businessmen and journalists who enjoyed Woody Allen's French-language film, just a few days after its world premiere at the Venice Film Festival.
"I hope you like it. It's the best thing I could do at this stage of my life."
The lucky audience welcomed the great American director with a standing ovation and exclamations of admiration. Comfortable and lilting, he said that, along with his scheduled concert at the Odeon of Herodes Atticus the next day, he enthusiastically accepted to present his new film to the Greek audience. As the energetic and energetic filmmaker said, "Coup de Chance" is a very special film for him, as it is also his 50th film.
In fact, he did not rule out the possibility of returning to Athens for his next film.
Woody Allen was introduced to the audience by Antonis Maniatis, owner of Spentzos Film S.A. and Loukas Katsikas, Artistic Director of the Athens International Film Festival.
The premiere was honoured with the presence of many personalities from the artistic world, such as Laurence AUER (French Ambassador to Greece), Eleftheria Arvanitaki, Odysseas Papaspiliopoulos, Konstantinos Markoulakis, Antinoos Albanis, Mimi Denisi, Olga Tremi, Maria Sarafoglou, Eleni Rantou, Vasso Kavalieratou, Antonis Loudaros, Kostas Lampropoulos, Eva Nathena, Giorgos Karamichos, Giorgos Tsemperopoulos, Apostolis Totsikas, Roula Revi, Kostis Maraveyias, Tonia Sotiropoulou, Giorgos Papageorgiou, Danae Michalaki, Giorgos Pyrpasopoulos, Nikos Perakis, Sofia Kokkali, Haris Fragoulis, Angelos Frantzis, Renos Rotas, Manos Vakousis, Maria Papalambrou, Ephie Kantza, Giorgos Hraniotis, Valeria Christodoulidis, Natalia Argyraki, Thodoris Voutsikakis, Elias Giannakakis, Stavros Psyllakis, etc.
Photos from the glamorous evening in the photo gallery (credits Yannis Stefanidis)
The film COUP DE CHANCE will be released in cinemas all over Greece from September 27th.
COUP DE CHANCE is about the important role that opportunities and luck play in our lives. Fanny (Lou de Laâge) and Jean (Melville Poupot) seem like the ideal married couple - they are both professionally accomplished, live in a beautiful apartment in a privileged neighborhood of Paris and seem to be as much in love as they were when they first met. But when Fanny runs into Alain (Niels Schneider), a former high school classmate, by complete chance on the street, she loses her footing. Soon they start to become closer and closer...
DURATION: 93' | DIRECTOR & WRITER: WOODY ALLEN | STARRING: LOU DE LAAGE, VALERIE LEMERCIER, MELVILLE POUPOT, NIELS SCHNEIDER
The full programme of the 29th Athens International Film Festival will be announced during the Press Conference on Wednesday, September 20, 2023 at 19.00 at Astor Cinema.
The 29th Athens International Film Festival will take place from September 27 to October 9, 2023 in theaters: DANAOS I & II, INTEAL, ASTOP, ASTY, MEGARON THE ATHENS CONCERT HALL, PALLAS THEATRE and MUNICIPAL THEATRE OF PIRAEUS.
For constant updates and more information about the Athens International Film Festival, tune in to the sites of aiff.gr and cinemagazine.gr and our social media pages.