SEBASTIANE
The legendary director retells the story of Saint Sebastian in Latin, from his exile all the way to his martyrdom. Arthouse audiences' introduction to the male body is achieved with a disarmingly uninhibited look at the homoerotic happenings of typically male activities. Bodies in ecstasy balancing on the golden ratio of unbelievable compositions bathed in light like the melodies of Brian Eno following the movement of Apollo in the heavens. Pain and delight become one in the first ever queer iconography.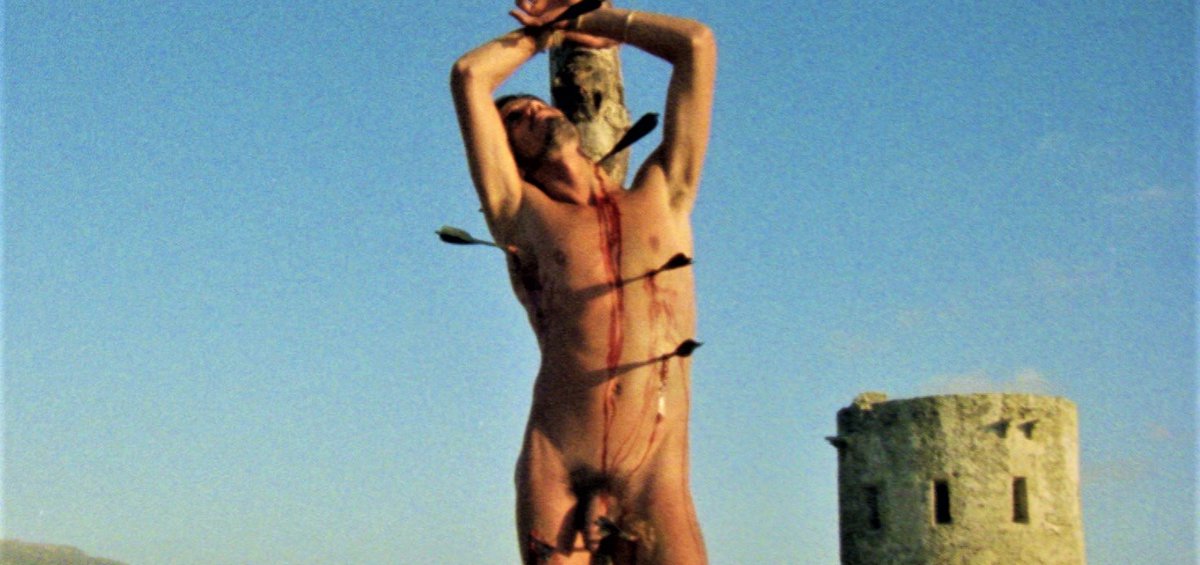 UK / 1976 / COLOR / DCP / 86' / LATIN
Derek Jarman and Paul Humfress make a new reading in Latin of Saint Sebastian's history, exiling him from the court of Diocletian to a coastal garrison of the Roman Empire. There he chooses stoically to abstain from any war or sexual activity, despite the pressures of the higher-ranking, and as a result his torture begins. The definitive meeting of the arthouse audience with male flesh came with a disarmingly cool gaze on the homoerotic content and subject. Bodies in ecstasy in unique compositions, bathed in light, just like Brian Eno's melodies following the movement of God Apollo to the sky. Pleasure and pain become one. 'Sebastiane' is the first queer film about the life of a saint. Th.K.
DIRECTOR: Derek Jarman
SCREENWRITERS: Derek Jarman, Paul Humfress, James Whaley
DoP: Peter Middleton
MUSIC: Brian Eno, Andrew Thomas Wilson
EDITOR: Paul Humfress
PRINCIPAL CAST: Leonardo Treviglio, Barney James, Richard Warwick, Neil Kennedy
DEREK JARMAN (1942-1994)
English director, screenwriter and activist. He has received many honours, especially at Berlin, where he won 8 awards. A prominent figure in British subculture, he left an indelible mark both with his films and with his activity for the LGBTQ rights and the AIDS awareness.
FILMOGRAPHY
1993 Blue
1993 Wittgenstein
1991 Edward II
1990 The Garden
1989 War Requiem
1987 The Last of England
1986 Caravaggio
1985 The Angelic Conversation
1979 The Tempest
1978 Jubilee
1976 Sebastiane