A Report on the Party and Guests
As the carefree picnic of a group of bourgeois friends is about to come to an end, a mysterious group of men appear out of nowhere and force them to participate in a series of increasingly bizarre games. Provocative allegory, surrealism, a class system satire of Buñuel proportions and terror thinly veiled by humour and playfulness: these are but some of the reasons which led the Commmunist regime of the time to "ban forever" this notorious film, and forced its director to leave the country.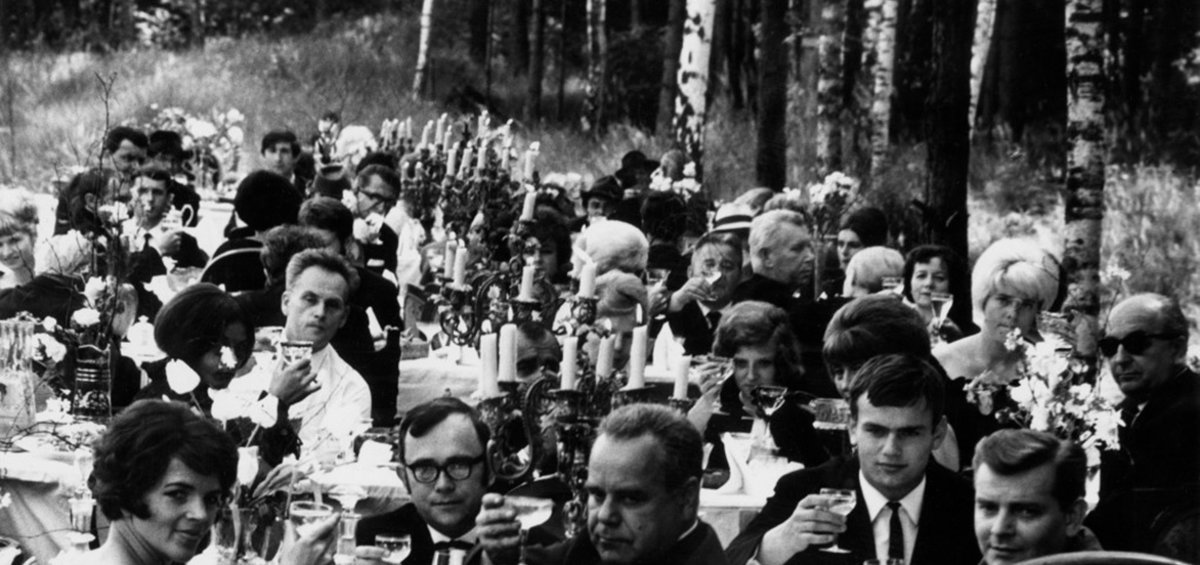 CZECHOSLOVAKIA | 1966 | B&W | DCP | 71' | CZECH
A bourgeois group of friends enjoy a picnic unbeknown to the fact that they are destined to reluctantly participate in a bigger party awaits, organised by a team of mysterious young men who will subject them to weird games, before the host of the party intervenes to play his own tunes. New Wave was never a stranger to surrealism and here is the greatest example of this retrospective.
In a Buñuel -esque atmosphere with touches of Ionesco, Němec's film, in its 71 incredible minutes, is an allegoric satire soaked in the acid of the absurd and the wise nitroglycerine of the students of the Prague Spring, who say party and mean...(political) Party. Aggelopoulos, Panagiotopoulos and the Greek weird wave (among others) have taken ideas from this disturbing jewel dealing with homogenisation and basically the ways of every totalitarian governor. I.D.
DIRECTOR: Jan Němec
SCREENWRITER: Ester Krumbachová, Jan Němec
DoP: Jaromír Sofr
MUSIC: Stepán Konícek
EDITOR: Oldřich Bosák
PRINCIPAL CAST: Ivan Vyskočil
JAN NĚMEC (1936-2016)

As a student of the Academy of Arts in Prague, Němec was particularly pursued by the Communist regime. In 1968 he left the country and didn't have the chance to direct a film again for 22 years. The two films presented in this retrospective are proof of his radical artistry and his vital importance for the Prague Spring.

FILMOGRAPHY (SELECTED)
2016 The Wolf from Royal Vineyard Street
2010 Heart Beat 3D
2009 The Ferrari Dino Girl
2005 Toyen
2004 Landscape of My Heart
2001 Late Talks with my Mother
1996 Code Name: Ruby
1990 The Flames of Royal Love
1968 Oratorio for Prague
1967 Martyrs of Love
1966 A Report on the Party and the Guests
1964 Diamonds of the Night