BLIND WILLOW, SLEEPING WOMAN / SAULES AVEUGLES, FEMME ENDORMIE
A hallucinatory animated film based on stories by Haruki Murakami, featuring talking frogs, lost cats and heroes willing to abandon their murky lives. Balancing between the absurd, the surreal and existentialism, and masterfully recreating the mystical atmosphere with the metaphysical concerns of the Japanese author, the film constitutes a sui generis, a hypnotic creation that orchestrates a fanciful audiovisual tsunami as it chronicles the trials and tribulations of a handful of lost souls trying to reinvent themselves.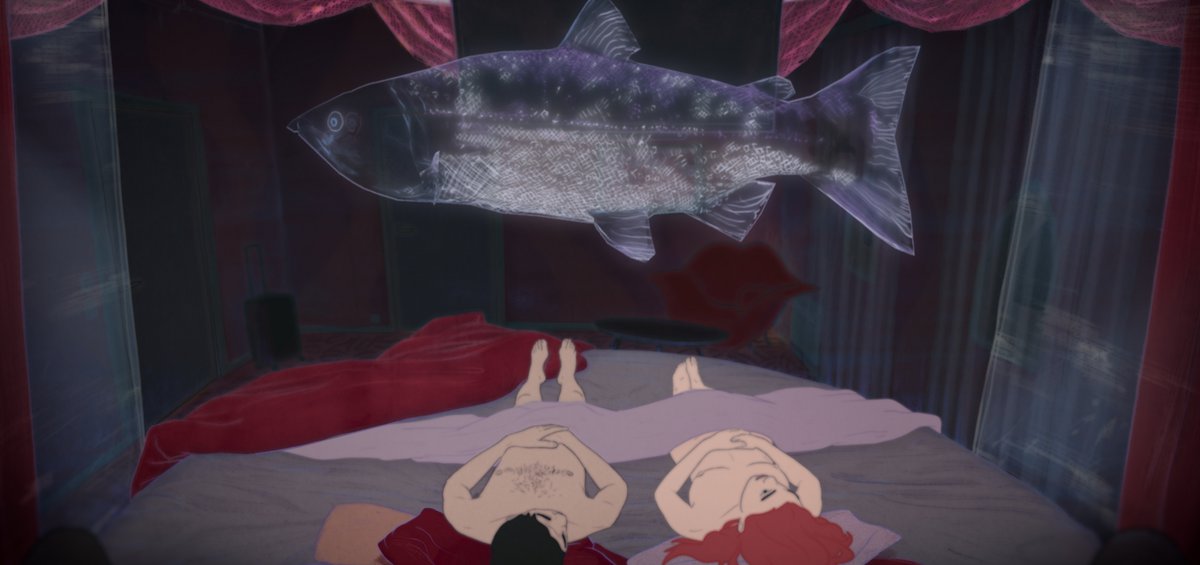 FRANCE, CANADA, NETHERLANDS, LUXEMBOURG | 2022 | COLOR | DCP | 108' | ENGLISH
An eloquent frog saving Tokyo from a deadly earthquake, an unambitious banker, an 'empty' clerk in love with his best friend's wife, a modern-day genie and a single wish, a lost cat, Mozart's Piano Concerto No. 23's adagio… It's a world distilled from three Murakami short story collections, an incredible animated debut by composer Pierre Földes, who definitely should have debuted earlier. Light and meaningful at the same time, free from a world that needs different people in order to change, filled with humour and unexpected cinephilia (a meaningful nod to Ford's 'Fort Apache', among others), this is a film which claims, in a melancholic but very charming manner, that essence lies beyond sour rationalism. I.D.
DIRECTOR: Pierre Földes
SCREENWRITER: Pierre Földes
DoP: Étienne Boilard
MUSIC: Pierre Földes
EDITOR: Kara Blake
PRINCIPAL CAST: Ryan Bommarito, Shoshana Wilder, Marcelo Arroyo, Scott Humphrey, Arthur Holden, Pierre Földes
PIERRE FÖLDES
Composer, arranger, painter and filmmaker born in the USA and raised in Paris by Hungarian-English parents. He studied piano and music composition, he writes music for films, series, advertisements and video games. This is his debut as a director.
FILMOGRAPHY
2022 Blind Willow, Sleeping Woman