SWAN SONG

A hairdresser and stylist in his twilight years escapes from a nursing home and embarks on a journey of redemption in search of his ultimate masterpiece, … Linda Evans' head of hair, one of his old clients, who has just died and has requested as a posthumous favour that he see to styling her hair one last time. A proudly queer road movie, kind hearted, comictragic in the right amounts, with saucy humour and with a "skyrocketing" Udo Kier gazing in a blasé way and down his nose at the graceless daily life of backwater America, enjoying every minute of what is the best role of his career.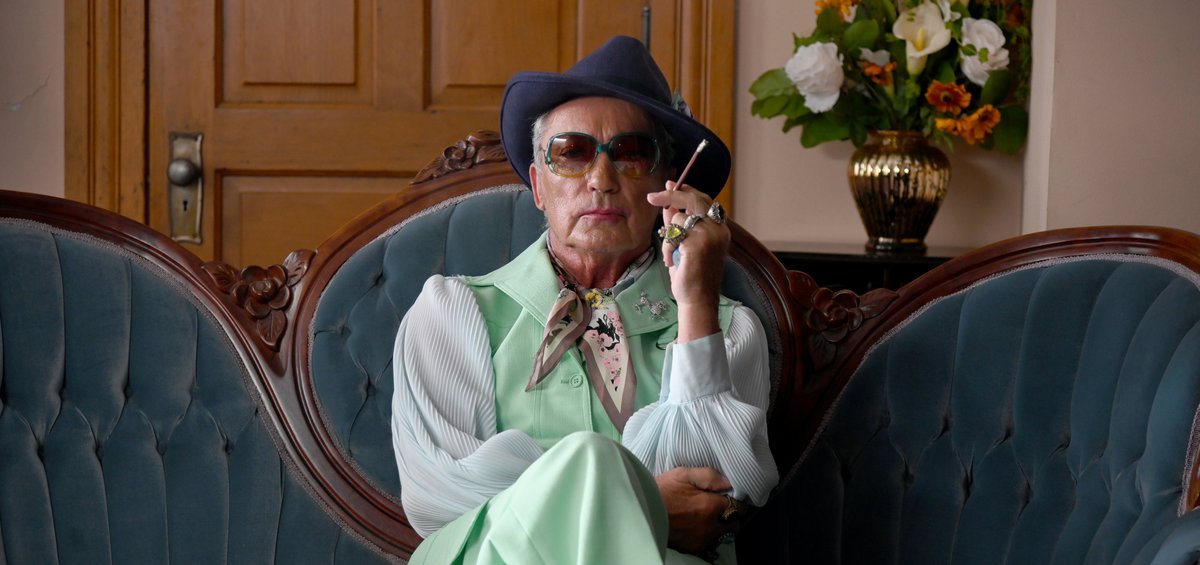 USA | 2021 | COLOR | DCP | 105' | ENGLISH
Pat, an old hairdresser, old glory and drag 'Queen' of his town, lives now displaced at an old people's home after suffering a stroke. His only company? His unstoppable memories. When the will of his former best friend asks for a final coiffure, Pat escapes to a final adventure.
An unexpected road movie, filled with tender details, scandalized by its camp, nostalgic for the glow of youth and hurting over the losses of the '80s epidemic and the civil partnership that took so long. A fitting role for the charismatic Udo Kier, this king of camp with the eyes of quartz, a sardonic comeback for Linda Evans (of 'Dynasty' and Rock Hudson) and successive nods to the temperament that never grows dim. More is more – you 'll know what we mean. I.D.
DIRECTOR: Todd Stephens
SCREENWRITER: Todd Stephens
DoP: Jackson Warner
MUSIC: Chris Stephens
EDITORS: Spencer Schilly, Santiago Figueira
PRINCIPAL CAST: Udo Kier, Jennifer Coolidge, Linda Evans, Michael Urie
TODD STEPHENS
American director, producer and screenwriter. He grew up in Sandusky, Ohio, where his films often take place. He came out writing the critically acclaimed 'Edge of Seventeen' (1998), which was very successful festival-wise.
FILMOGRAPHY
2021 Swan Song
2008 Another Gay Sequel: Gays Gone Wild!
2006 Another Gay Movie
2001 Gypsy 83