Adults in the Room (Closing Film)
Fifty years after the Academy Award winning "Z" and having enjoyed an international career, the great Costa-Gavras focuses once more on the political reality of his country of origin, bringing to life the negotiating thriller which took place between the Greek government and the remaining members of the European Union during the first half of 2015. An exceptional cast, a solid plot and high intensity direction in the most highly-anticipated Greek film of the year.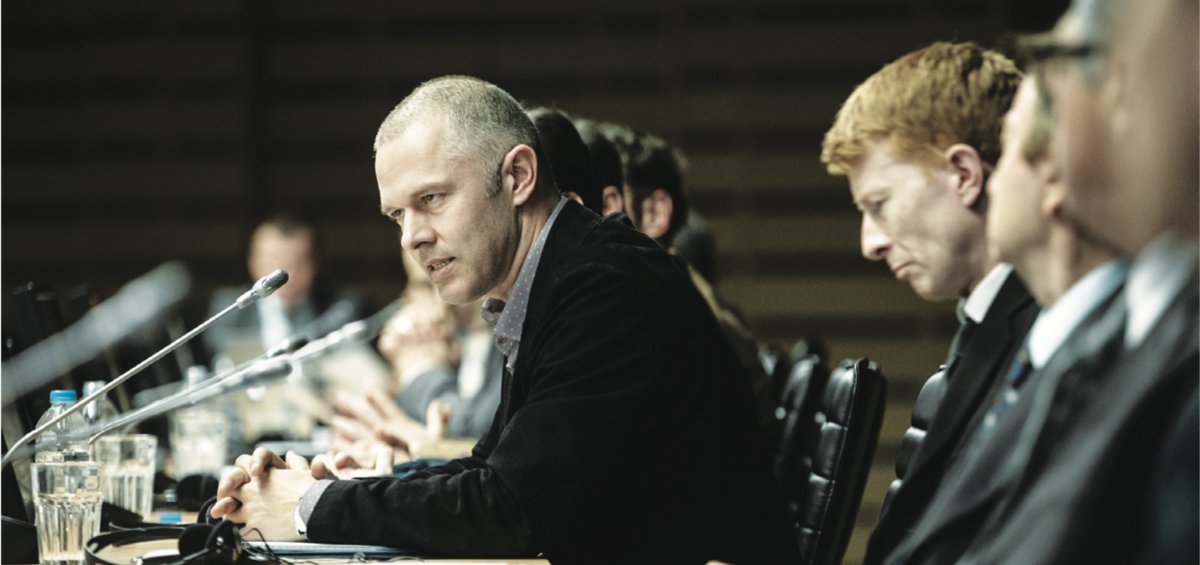 The screening will be preceded by the Closing Ceremony of the Festival. In attendance of the director, cast and crew. Entry won't be allowed once the ceremony has commenced. The film will be
screened directly after the conclusion of the ceremony. A reception will follow in the courtyard of the Athens Concert Hall.

FRANCE, GREECE | 2019 | COLOR | DCP | 124' | ENGLISH, GREEK, FRENCH, GERMAN
Based on Yanis Varoufakis' book, the new film by Costa-Gavras attempts a fight on many fronts. It tries to map out the contemporary political state of Europe and to reveal how popular will is transferred behind closed doors, where our future is decided. At the same time it acknowledges today's status quo of the balance of power and, without straying from the spirit of the book, it tries to shed some light to the personal showdown of the Greek former Minister of Finance with what he calls 'Europe's Deep Establishment'.
50 years after 'Z' won the Academy Award for Best Foreign Language film, Gavras returns with an ideologically charged film, which praises the importance of debate and political negotiation. I.D.
DIRECTOR: Costa-Gavras
SCREENWRITER: Costa-Gavras
DoP: Yorgos Arvanitis
MUSIC: Alexandre Desplat
EDITORS: Costa-Gavras, Lambis Haralampidis
PRINCIPAL CAST: Christos Loulis, Alexandros Bourdoumis, Ulrich Tukur, Daan Schuurmans, Christos Stergioglou, Dimitris Tarlow, Alexandros Logothetis, Josiane Pinson, Cornelius Obonya, Aurélien Recoing, Vincent Nemeth, Francesco Acquaroli, Thanos Tokakis, George Lenz, Themis Panou, Maria Protopappa, Valeria Golino
Tickets presale ONLY at www.megaron.gr and the Megaron Box Office (Vass.Sophias & Kokkali).
COSTA-GAVRAS
Internationally acclaimed producer and director, born in Greece in 1933. He has been living in France since 1951. He studied Film at the French National Film School. He has won an Academy Award and the Palme d' Or for 'Missing', a Golden Bear for 'Music Box', an award for Best Director at Cannes. He is the Director of the Cinémathèque Française from 1982 to 1987and again since 2007 to this day.

FILMOGRAPHY (SELECTED)
2019 Adults in the Room
2005 Le Couperet
2002 Amen
1997 Mad City
1989 Music Box
1988 Betrayed
1983 Hanna K.
1982 Missing
1972 State of Siege
1969 Z